Xbox series x vs ps5 which is better
Hello, Today we are going to discuss the gaming console. In the current market, there are mainly 3 brands which are actively making new consoles for gaming-
Microsoft Xbox
Sony PlayStation
Nintendo

But in this post, we will compare Xbox and Playstation only. From the brand Xbox, we have the Xbox series X and PlayStation 5 from Sony PlayStation.

Both devices were released back in November 2020. The Units were Out of Stock as soon as they were launched in the market. Every time a new generation console releases fans get excited worldwide to buy them as quickly as possible.

It's the year 2023 & we are going to compare the Xbox series X vs PS5 to see which one is doing better. This comparison were answer the common doubts people have before purchasing. It will help you to judge whether you should buy series X or PS5 in later months.

This post will clear all your confusion related to the specifications, Performance of these two consoles and the game titles you can enjoy. Later in this post, you will also find the best choice depending on your budget and which console can provide you with a bang for your buck.

I have made some points, which are going to help us. To compare all the aspects of these two consoles. These are mentioned below-
Design of consoles
Hardware & Specifications
Gaming experience and User interface
Other features worth mentioning
Online services (free or paid)
(Most Important) Price and Availability
The one

Let's begin with the comparison of the Xbox series x vs Ps5.
Design of consoles-
Xbox series X and Ps5 both are uniquely designed consoles. Both consoles have unique features. If I have to say it in one line the series X is like a Big woofer (speaker) design and the Ps5 on the other hand looks like a large spaceship. Design-wise both consoles look nice and a good fit for your Tv aesthetically.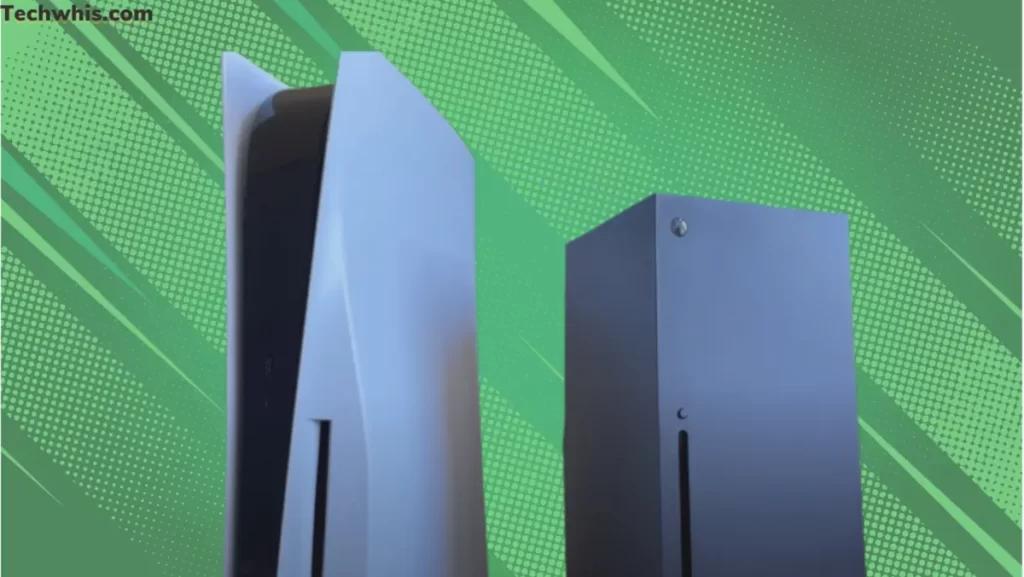 Individual comparison-
Xbox design is Fat and less space-consuming. The air vents for the Xbox series X are big and have plenty of airflows. It comes in Matt black colour and is packed with a powerful processor and GPU unit.
Xbox series X does not make loud fan noises when in use. But it may depend on various factors like clean air vents and proper ventilation to your device. The results may vary from person to person. No matter the Xbox is a really powerful 4k machine.

The PlayStation 5 on the other hand, Design wise PS5 is beautiful too but the white colour catches dirt quickly and there is no other option. You can buy skins for your device to customize its colour. But as of now, there is no other colour option.
| | |
| --- | --- |
| Xbox Series X | PlayStation5 |
| Xbox design is Fat and less space-consuming. | Design-wise PS5 is beautiful but requires more space. |
| The air vents for the Xbox series X are big and have plenty of airflow. | Heats up fast and airflow is not as good as the Xbox series x. |
| It comes in Matt black colour and is packed with a powerful processor and GPU unit. | White Dual tone colour. You can buy skins for your device to customize its colour. |
Xbox series X and Ps5 Controller design-

Xbox is having the same controller design as the previous generation offered. There are some improvements but not a complete change. The design and button are the same and users are very much accustomed to it.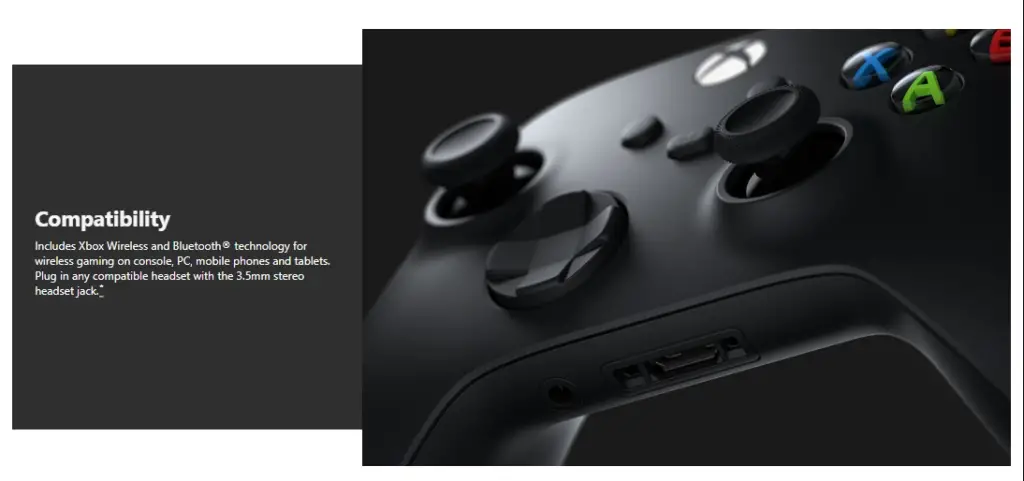 Xbox knows that big changes in the controller can have a negative impact if they do not add anything useful in gaming. That's why the Xbox controller design remains the same for both consoles whether it is series S or X.
Xbox controller is battery-powered. You can buy rechargeable batteries for your controller but it's going to cost extra.

On PS5 the story is Completely different. The controller is completely revamped and comes in dual tone colour design. The trigger button now supports much more emerging haptic feedback.
The haptic feedback you experience on Ps5 is next level which makes it a better choice than the Xbox controller. The PS5 controller's new design is appreciated but the touch sense bar is still a lost cause and that's a thing you should consider.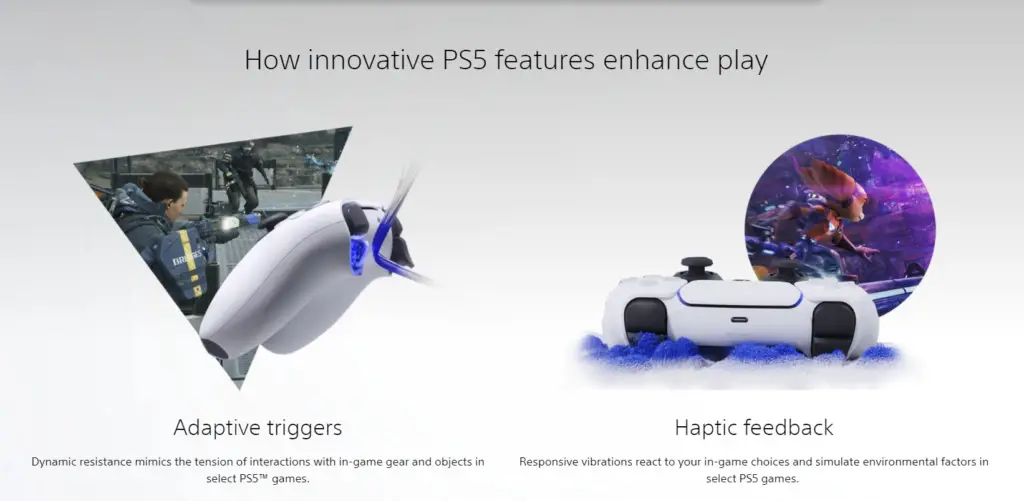 The controller on PS5 now has a mic and a dedicated mute button for the mic. For multiplayer gaming, ps5 controller is best. PS5 controller is rechargeable with USB type-C port.

Verdict-Controllers are meant for playing games and both controllers are great with their respective devices. One can't judge the gaming experience with the controllers.
And we can't ignore the fact that controllers with more features are much more sensible. But do keep in mind that gimmick features or features with no real game implications are useless features.
Hardware & Specifications-
The hardware and specification parts are most common in all the posts. You can skip this part if you already know about them. Or you can keep on reading maybe you will find something new.
We already know that the Xbox series x is a very powerful device in terms of Raw processing power. It's the best console in terms of performance. But what makes it tick let's check.

Basic specifications-
| Spec | PS5 | Xbox Series X |
| --- | --- | --- |
| | | |
| CPU | 8-core 3.5 GHz AMD Zen 2 | 8-core, 3.8 GHz AMD Zen 2 |
| GPU | 10.3 teraflop AMD RDNA 2 | 12.0 teraflop AMD RDNA 2 |
| RAM | 16 GB GDDR6 | 16 GB GDDR6 |
| Storage | 825 GB custom SSD | 1 TB custom NVMe SSD |
| Resolution | Up to 8K | Up to 8K |
| Frame Rate | Up to 120 fps | Up to 120 fps |
| Optical Disc Drive | 4K UHD Blu-ray (Standard PS5 only) | 4K UHD Blu-ray |

Processor and Graphics-
Xbox series X is a beast when it comes to raw power in both processing and GPU power. But it doesn't mean that ps5 is weak. In the real world, both consoles are capable to render up to 8k resolution and 120 Fps. Games are enjoyable on both consoles and you are not going wrong with any of these two.

So what to look for when buying?
You have to choose the one which supports your playstyle, or game titles you love. Coz when you buy it for daily use, you have to consider all the other features that the device offers.

Storage comparison-
As you have seen the specification list above. It has been mentioned that Xbox comes with 1Tb SSD and PS5 with 825GB custom SSD. But in actuality what you are getting is even lesser storage. Because the system firmware and default apps which are preloaded in your system are also going to take some storage space from your dedicated SSDs.


In a real scenario what you are getting is 802GB on Xbox and 667GB of actual storage on PS5. Now both console manufacturers provide expansion slots. But on Xbox, you can expand its storage using proprietary expansions really fast. On the other hand on Ps5, you can use any M.2 SSD which is compatible with PS5. It's fast and easy to install as well.

Xbox can expand its storage via several other mediums as well but it will be time-consuming and you need to have some tech experience otherwise you won't be able to boot it. So official Expansion SSD is the way to go.

Verdict- Ps5 is better if you want hassle-free storage expansion.

Cooling system-
Both the devices run cool thanks to their big cooler. But if we compare directly the Xbox series X airflow is better in comparison to Ps5. Both the consoles need time-to-time cleaning for proper airflow. In long durations, the Xbox series X cooling system is way ahead of PS5.
Gaming experience and User interface-
The gaming experience on both consoles is going to be amazing. But if you have to choose only one console from these two. Then check the new updates below-

On Xbox series X-
If we consider user experience the Xbox Series X has the same identical UI as the series S or their previous generation One X.
The quick resume and the new sharing features require the new controller with its share button. Nonetheless, the user experience will be similar across generations.

Meanwhile, individual volume control for party members has been added to the party chat options, while the activity feed has been updated to make it cleaner and easier to read.

On the Xbox Series X, you can customize your home screen with various colours, and the Xbox store has been overhauled. The new sharing features allow the Xbox to catch up to the ease of use seen on the PS4 for years, and players can press the share button once to take a screenshot and hold it to record a gameplay clip.

On PS5-

On PS5 UI has been completely overhauled from the PS4's user experience, as Sony had promised, and will be rendered in 4K. One of the most significant new features of the PS5 UX is the control centre. You can press the PlayStation button and it will suspend whatever game you're playing to bring up the control centre on the screen without leaving the game.
Here you can view activities, which are displayed as cards on the screen, showing you various small and large gameplay opportunities from across the game you're playing, such as jumping into different levels, tackling specific challenges, jumping back to earlier parts of the game to hunt down collectables, and more.

PS Plus members will also be able to use the new feature called Game Help to check out official in-game tips, hints, guides, and videos, and you can view these while you're playing the game as picture-in-picture videos.

Sharing features have also been improved, which means that you can now share your screen with members of your party and view other party members' screens picture-in-picture while you're playing your game.

The main home screen follows the design pattern of the PS4's UI but with an updated look.
Various available and installed apps and games appear in a row on the home screen as different tiles. Under each app or game, you'll find its hub where you can jump into specific parts or levels of the game, view news and updates, and more. These features will be applied to PS4 games via backward compatibility.
Other Features to consider-
When we consider exclusive games, there is no doubt that PlayStation is always ahead. God of war, Spiderman, and The Last of Us. All are exclusive titles and are only available to play on PlayStation.

On Xbox, You can play the Halo franchise, Forza Horizon and Microsoft Flight Simulator. So depending on your preference, you can go with either of them.
At first, Xbox had a strong Hand in the backwards compatibility games. Which is now also being offered by the PlayStation 5 as well through their PS subscription.
PS Plus is their monthly pass where users can enjoy free games and play multiplayer games for free. As of now, both consoles offer free Multiplayer with selected games like Warzone, Fortnite and Apex legends.

If we consider the no. of games on each platform. Then there is no doubt that the Xbox is the winner. Xbox gives you the freedom to play old titles on your new console at no extra cost if you are already a part of their game pass.
Check the Xbox series x optimised games library here<
PS5 backwards compatibility<

Online services (free or paid)-

Both devices are capable to connect online and act as entertainment devices in your household. But when it comes to online multiplayer gaming only a few selected titles are free to play online. For other gaming titles, you will require a game pass on Xbox and On PlayStation5 you are going to need a PS Plus membership.
Both memberships are available at decent prices in different packages.
Xbox games pass
PS Plus membership
Price and Availability-

When it comes to price and availability the Xbox is the first choice. The Xbox series console comes in two variants. The series X (the powerful one) 1Tb comes at around $550-$599 thanks to the demand and supply ratio. Originally it was released at a much lesser price of $499. But the current market condition is making it expensive.

Playstation 5 on the other hand is struggling with a different case here. For the past 3 years, it's been selling very fast and always gets sold out. The stock of PS5 comes and goes very fast. So buying one at the best price is not possible. Even at present time, scalpers are making it difficult to buy PS5 at the MSRP. The only way you can buy one is by paying the double cost of its actual value.

So if we undertake the availability then the Xbox series X is the winner. Coz you can buy one and enjoy it.
The one-

We have already discussed all the major points about Xbox and PlayStation.
Now, which one should you buy?

There is no specific answer to this query. The answer to this question is different for all readers. This answer is already present in your mind & You just have to think about it. In simple words the games you prefer the most and the console which offers them.

Choose the console which has the games you like the most and the one which your friends own. This way you can enjoy the gameplay to its fullest.

But if you are still confused and want my answer to this query, then definitely i will choose the PS5. Because I like the Playstation exclusives and I dont want to wait for 2 or more years to play the exclusive titles on PC.
---
Your feedback's appreciated, so do comment down below if you have any suggestions or corrections.