Should I update to ios 16 on my ipad
What we know so far(iPadOs) -what it addresses and what it still lacks. The Weather app has been enhanced, and a new feature has been added to straighten text. Additionally, a display scaling feature has been introduced to provide more space on the iPad screen. The Files app has also undergone some improvements, including the addition of a list view, more extensive information about files, customizable toolbars, a system-wide undo function and a redesigned find-and-replace tool.

Features of Ipad Os16-
In the first section, we'll be discussing iPadOS features which are mentioned below-

iMessage- The first feature is in the iMessage application, which includes the new edit and undo mode and mark as read option. If you send a message on iOS 16, you have the option to long press and undo or edit the message within two minutes of sending it. You can also mark messages as unread. These features are available on both iOS 16 and iPadOS 16.
Background remover tool- One of my favourite features in iPad OS 16 is the background remover tool. When you long press on the subject in your library, you can move it around, use it as a PNG, and remove the background. You can then paste the subject into other applications such as Notes and Messages. To get more information on the photo, we can also use the swipe-up feature. Then it will give us all the info about like where it was taken, as well as the camera used. This feature is amazing, and it's one of the best features in iPad OS 16, aside from Stage Manager, which we'll touch on later.
Photo editing- Add a caption to your photos and adjust the date and time they were taken. If you want to edit a photo, you can adjust the exposure, highlights, and other settings, and then copy those edits to any other image you want to edit. Additionally, iPad OS 16 has Universal undo and redo, which means you can undo or redo edits universally across all applications natively built into the operating system.

Live Text for videos- In the Photos app. If you have a video, you can pause it and use Live Text to copy any readable text from the video. Live Text was first introduced last year for images, and now it can be used for videos as well.
Shared photo library- This means that you can upload images in real-time or afterwards to a shared library for others to view and download. However, keep in mind that the owner of the shared library is responsible for the storage space it takes up in their personal iCloud library. Now to create a shared library, simply click on the person icon in the top right-hand corner of a picture and move it to the shared library. You can also choose to directly upload images to the shared library from the camera app by toggling the "Shared Library" button.
Live captioning beta– The feature that stands out in iPad OS 16 is the live captioning beta, which can be turned on under Accessibility in the Settings app. This feature offers real-time captions for any audio coming from your device, including from YouTube or your own voice. It also works with dictation, and you can even enable live captions during a FaceTime call. This is a useful feature, and you can customize its appearance and interface in the settings. Overall, the live captioning feature is a great addition to iPad OS 16 and iOS 16.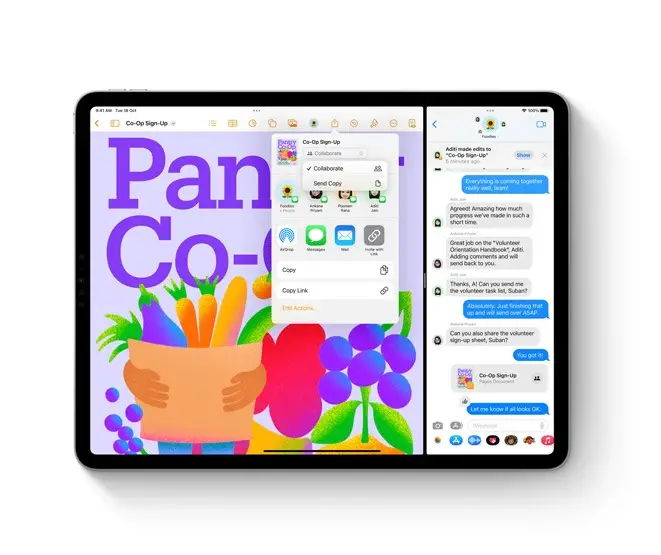 Smart folders in Photos- Again Moving on to the photos application, we have several new smart folders, including a recently deleted folder that requires Face ID to access and a folder for duplicate images.
Share Play UI improvements- The app now creates folders based on the type of photos you take, such as raw photos, animated photos, and screenshots. Another noteworthy feature is the new UI for share play inside FaceTime. You can now view the apps that support share play and switch between FaceTime calls on different devices using FaceTime handoff.
Screenshot- Finally, when you take a screenshot and click on the done button, you now have the option to copy and delete the image, which allows you to paste it into another application without saving it to your camera roll.
Safari tab collaboration- Next, there are two additional features available on iOS 16 and iPad OS 16. The first is the ability to collaborate with groups of tabs in Safari, allowing for easy sharing and management of tabs across devices.
Smart folders- The second feature is the ability to create smart folders within the Notes application based on certain criteria, such as time. You can also go with planner apps on your iPad for productivity.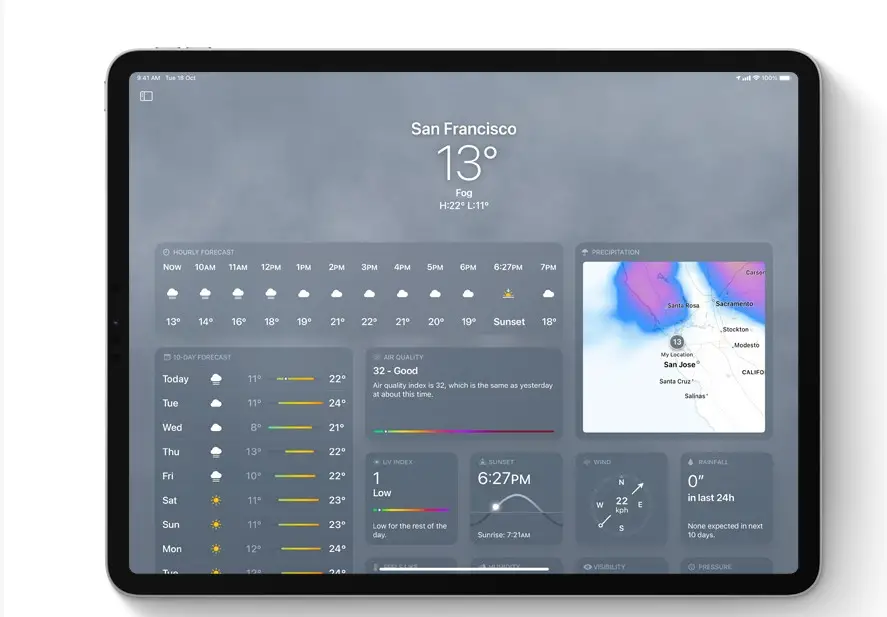 Weather app for iPad- There is now a dedicated weather application for iPad OS that works with all iPads across the board. It features an interactive UI, with each card providing in-depth data that can be clicked on to access a bigger map, making it a great addition.
Stage Manager: windowed views- Here comes the Stage Manager, the feature you all wanted and waiting for so long. It is accessible from the control centre and allows for new windowed views for up to four different applications. This feature is available on any iPad Pro from 2018 and higher, as well as any M1 or M2 iPads, but is not available on the iPad Mini or older iPad Airs. While this feature is a welcome addition, it can be a bit finicky and not fully customizable in terms of resizing.
The Negatives of iPad OS16-
External Hard Drive issues- Despite spending a considerable amount of money on the device, users are unable to access their external hard drives due to issues with corruption caused by accidental unplugging. Although the problem can be fixed using a Mac or a PC, it is a hassle for users who expect their expensive devices to support such basic functionality.
In addition, the iPad Pro lacks the ability to format a hard drive, which is a standard feature on Mac OS, Windows, and even older Android tablets. This means that users who have incompatible hard drives or SSDs cannot format them to work with their iPad Pro. The Files app should include this feature, considering the incredible AI software technology that Apple has been working on. Overall, the lack of support for external hard drives and the inability to format them is a significant negative aspect of the iPad Pro.
Reference Mode- The 12.9-inch iPad has a new reference mode, but it's disappointing that this feature is not available on other models, even though Apple's studio display has it. Furthermore, although better multitasking and external display support have been highly requested features, the Stage Manager demonstrated by Apple has limitations. To use it, you have to open it from the control centre and start opening applications, which seems like a tedious process. It seems like the new features of the 12.9-inch iPad are underwhelming and do not meet the expectations of professional users.
Exclusive Features for M1 iPad Only- The latest update for the iPad comes with new features, but unfortunately, they are only available on the M1 iPad. The update adds proper external display support If you are still using the previous mirror display option. It can result in giant black bars on the sides, which is frustrating.
Limitations of Stage Manager- The Stage Manager feature is limited to M1 iPads only, despite the A14 and older models being able to support memory swaps and access more RAM to run applications. It's frustrating that older iPads can't run Stage Manager, especially since older Android tablets could do these things years ago without any problems.
Lack of Support for Older Devices- Owners of M1 iPads will be happy, but everyone else is frustrated that they're stuck in the past. This is also happening with iOS 16, where Apple is dropping support for devices like the iPhone 7 even though technically, they should be supported. Overall, it's a way for Apple to get people to upgrade to new devices to enjoy the latest software improvements.
Searching for Apple Macbook accessories?
Should you update or wait-
Well, I have provided mostly all the information about the update. Now it's up to you to judge and confirm if you really want to use the above features despite the negatives or not.
It's your call totally. My direct opinion is that you should upgrade to the latest OS > don't use the beta version. Upgrade to the safe (official) version of the update. This way you will be able to use all the features above depending on the device you have. And the security of the device will improve as well.

Conclusion-
The updates are useful but the negatives have their fair share in it. Every update seems buggy at first but we users are the ones who report them to the developers or the officials to make it better. I think now in 2023 several months after its release. It's now safe to upgrade to the latest version and enjoy the latest features which iPad has to offer and increase our daily productivity.