Hey, Readers today I'm going to review some Best 60 percent keyboard under $100.
All the keyboards are going to be mechanical and in 60 percent size format. 60 percent keyboards are easy to handle and consume very less space on the desk that's why these 60 percent keyboards are lately getting all the traction from the young generations.
After the tenkeyless keyboards TKL, 60 percent keyboards are the most valued and demanded keyboards among the users. The 60 percent design is easy to carry, because of its small size format and you can find a variety of features available like hot-swappable keys, bluetooth connectivity. 
The popularity of 60 percent keyboards is much higher when it comes to gaming. The gamers and casual typist, love their 60 percent gaming keyboards and they do love to customize their own 60 percent keyboard fitting to their needs and budget as well.
So if you are a gamer and looking for a gaming keyboard you must read this post to get a glance. I'll try to cover the best 60 percent keyboard under 100.
which can be bought at present time at or under 100$ price tag.
Now without wasting any more time let's dig into our list of best keyboards that are good for gaming and casual typing-
Razer Huntsman Mini 
From the brand razer, the huntsman mini is a good compact size keyboard. If you are looking for a budget-friendly branded keyboard. Then you should go with this one. The razer huntsman mini comes with its proprietary switches, called to be clicky optical switches. The keyboards provide a solid grip when typing and playing games casually.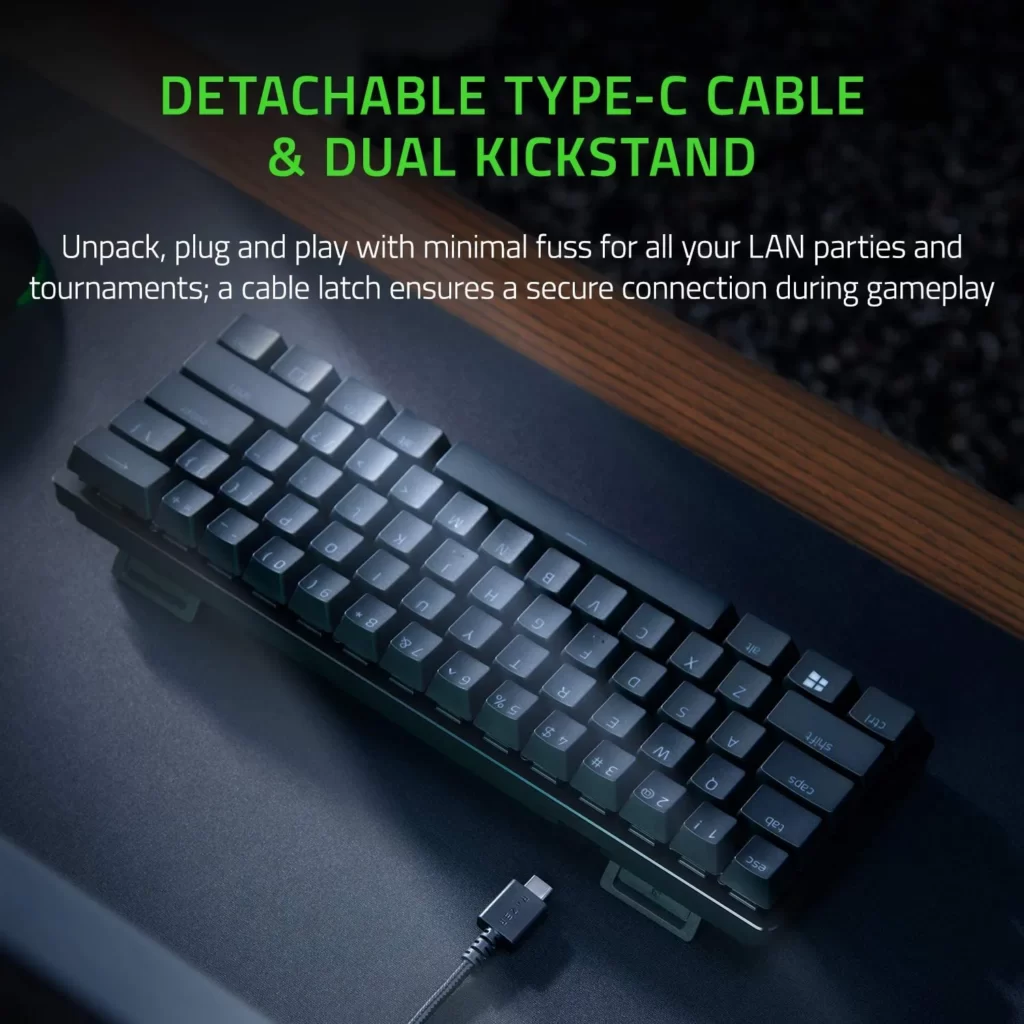 The keycaps used in this keyboard are PBT and not abs. This means the keycaps will last longer. Huntsman mini also has RGB lighting which can give an output of 16.8 million colour options. The RGB lighting looks good with double-shot PBT keys.
The huntsman mini connects to the pc via a detachable USB type-c port. The best part is you can use any USB type-c cable with your keyboard if in future there is an issue arising with the current one. Definitely, a contender to be called the best keyboard in 60 percent size format.
Now should you buy razer huntsman mini?
Well if you are a casual gamer, student, or in a working-class environment. I think this keyboard is going to be a great decision. The keyboard is lightweight and compact. The only issue I find in this keyboard is the rattling sound from the spacebar and shift keys. Other than those the keyboard is a solid budget device from a brand like razer. 
Pros- 
Clicky optical switches
Fully RGB
Cons- 
No option for choosing keys
Not hot-swappable 
Anne pro 2
In the 60 percent keyboard range next, we have Anne pro 2. a 100% RGB mechanical keyboard in 60 percent format. You can customize led's on this keyboard using the software which comes with this keyboard. 
It comes with Bluetooth connectivity and can connect max up to 4 devices at once. You can use this keyboard wirelessly with apple iPad, mobile phones, tablets and pcs. The keyboard is really good and performs well according to the price and features it offers at this price point.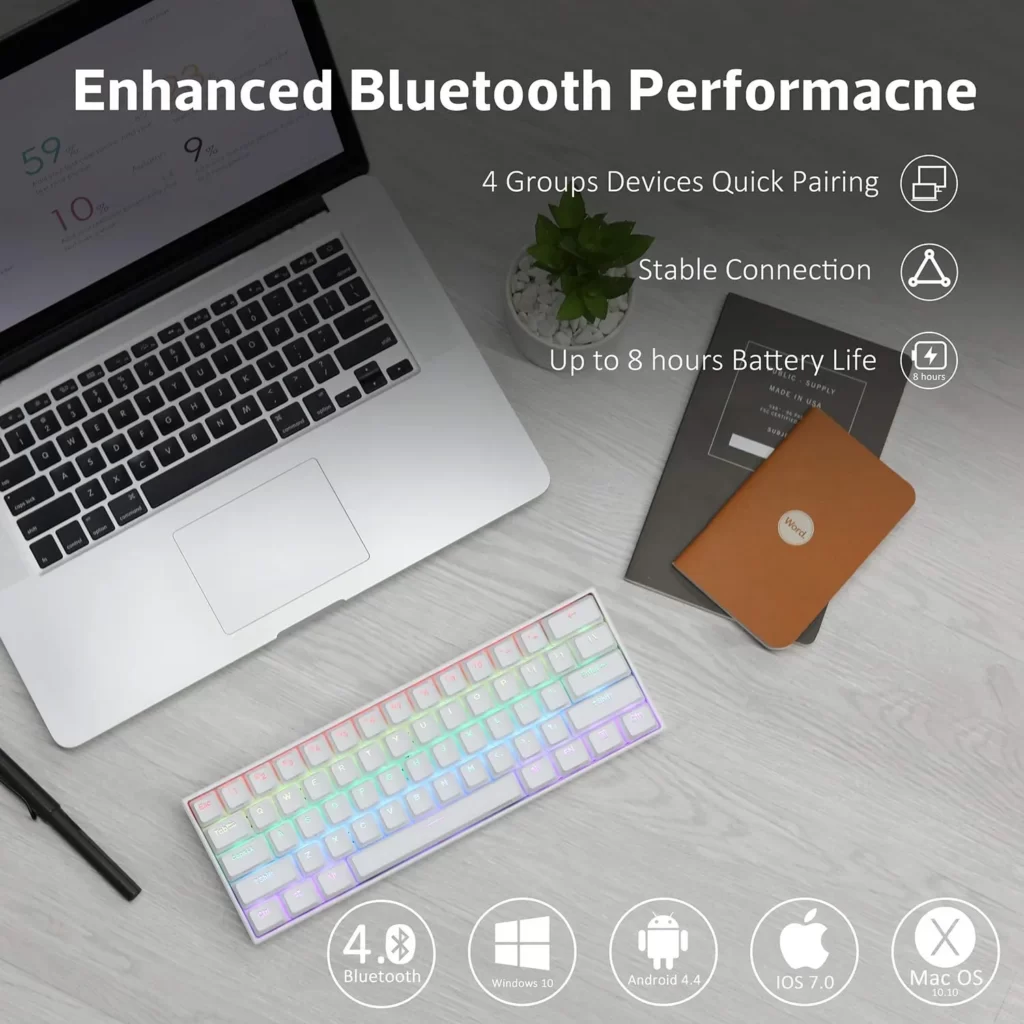 You can use this keyboard wirelessly even if it's wired is connected to another device. There is a dedicated button for this Bluetooth functionality. The best part about this keyboard is that it's not very heavy. Which makes it even more compatible for tablet users. And for those who love to travel with their gadgets. 
For wireless connectivity, the keyboard has an in-built battery of 1900mAh. Which can last up to 5-6hrs depending on the uses and various other factors. 
There is one more important feature that other compact keyboards may lack. The magic fn key for using the arrow keys and activating other normal features which are not available normally on these 60 percent compact keyboards.
Download software from here –obinsoftware for RGB
Pros- 
Bluetooth Connectivity
RGB 
Lightweight
Cons- 
LEDs are not bright 
Not Hot-swappable 
HyperX Alloy Origins 60-
A very capable keyboard from hyperx, alloy origins 60. This keyboard is compact and lightweight and comes with hyperx switches. To be specific you get Red hyperx mechanical switches in this variant of the keyboard. These switches are rated for 80M keystrokes. In this device, you get a full Aluminium body design and double shot PBT keycaps.
Supports the USB Type-C port connectivity. No Bluetooth connectivity in this variant. 
You can customize the lights using the NGENUITY Software.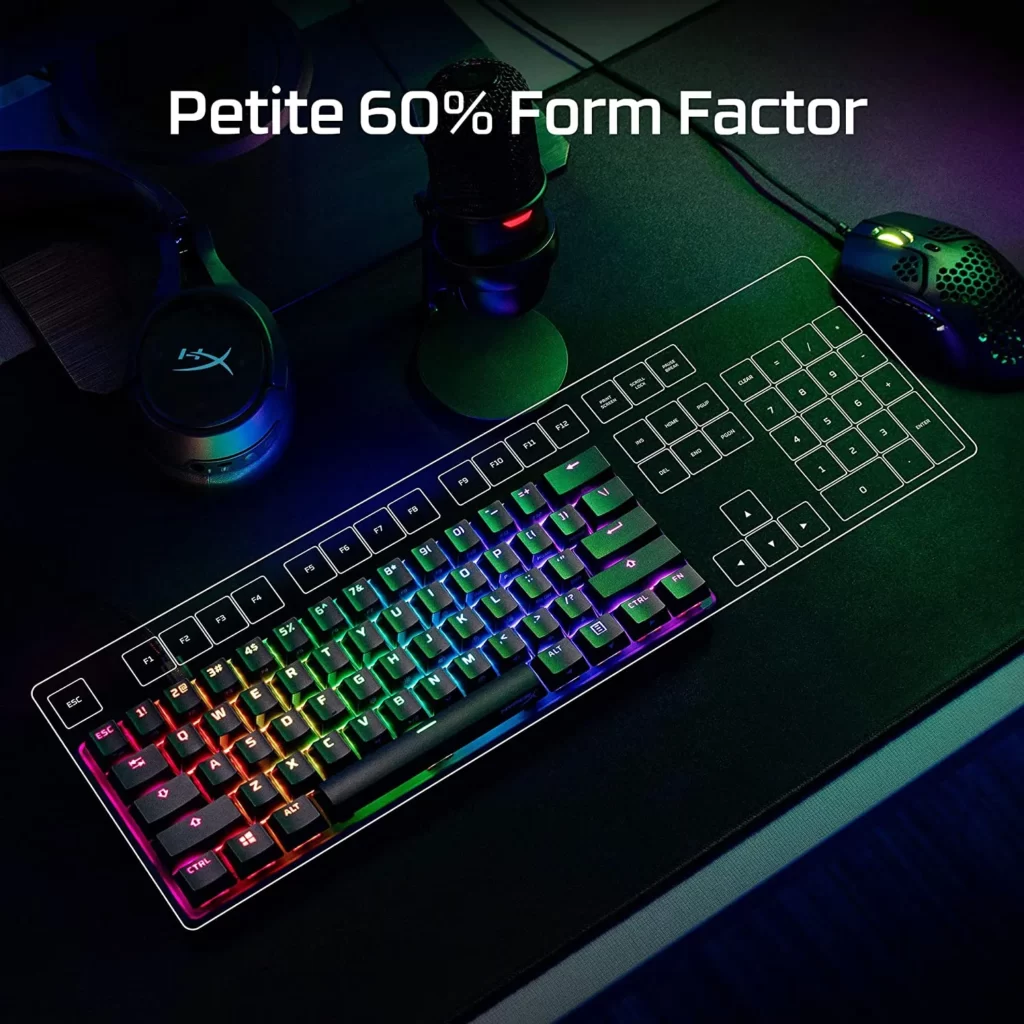 Hyper x alloy origins come with an extra 'Esc key' and a special 'Space bar' keycap. 
Now should you buy this one or not? Well in my opinion you can give it a try. With a budget of 100$, this keyboard is very much capable to do all the daily chores. In the gaming department, this will easily give you a great experience with those tactile Red switches. under 100 $ price point, a 60 percent keyboard with mechanical switches. bang for the buck in my opinion.
Pros- 
RGB 
Type-C
80M keypress
Height adjustable
Cons-  
A bit noisy 
No Bluetooth connectivity
Ducky One 2 Mini
Ducky is a very well renowned name in the best mechanical keyboard segment. If you are already a ducky fan, I know you were waiting for this. The Ducky one 2 mini here is the best of the best keyboard in this price range. It comes with Cherry MX mechanical switches.
We can all agree that are the very best kind of mechanical switches one can go for. With a weight of 590gm and a sturdy plastic design with little to no flex in the body. The ducky one 2 mini is the best keyboard 60 percent keyboard. You can buy this keyboard in any key segment like cherry red, silent red, brown, or black. 

The keycaps are double-shot PBT with full RGB lights. Supports USB type-c connectivity and comes with a 1.4meter length cable. The lights on this keyboard can be customized without using any software. There is 3 level height adjustability for the user. 
Ducky always tries to provide the best quality and this one is also a very top-notch product from the brand ducky. 
For gaming lovers, this keyboard is like a blessing with little to no rattling noise. And so many options for choosing keys according to their purpose. 
Pros- 
Fully RGB 
Type-C
Cherry MX key support
3 Level Height adjustable
Cons- 
Not Hot-swappable
Keychron K6 Hotswap
The keychron k6 is a phenomenal product. The features it offers in the price range are the best of the best. customization, option to choose keys, option for RGB light – normal white light. It is the best package I would say for home needs, office or gaming.
It comes with wireless connectivity and can connect up to 3 devices at once. The battery capacity is 4000mAh. Which can last up to 240hrs with the turned-off backlight.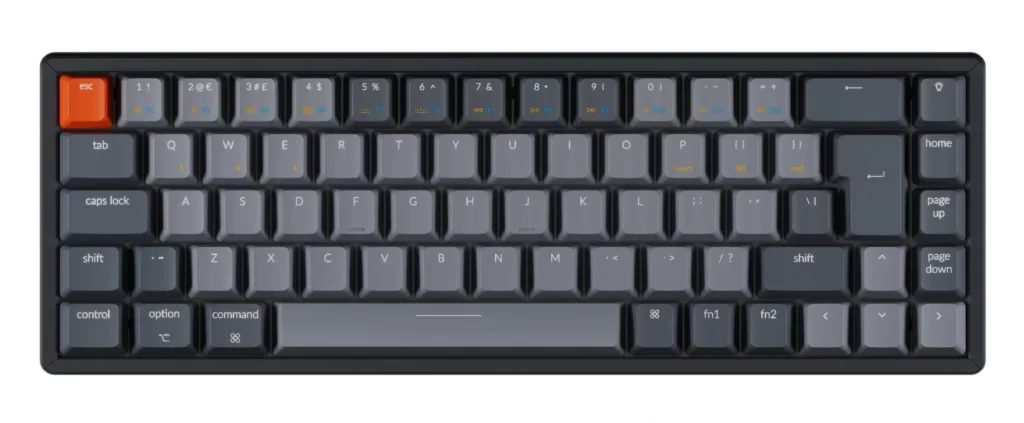 One more thing I have to add here is the keychron k6 is a 65% keyboard. It means it gets separate arrow keys. For more customizations, you can choose the hot-swappable version if you want or go with the regular one. The hot-swappable version will support all the regular keys available in the market like cheery MX, gateron, kailh, etc.
Compatible with both the windows and mac devices and includes dedicated function keys. 
Buying recommendation – yes, the best part about this keyboard is it gives you choice at the time of buying. So you can get your desired variant. 
Pros- 
Better customization
Hot-swappable optional
Fully RGB
Dedicated Arrow keys
Cons- 
Hot-swappable could be as default
Vortex Ultra Slim POK3R V2 Pulse
Next, we have is the vortex POK3R V2 Pulse. Come with cherry MX low profile red switches as default. These low profile switches are best for office and home uses.
Key supports 50M keypresses. The Keyboard frame material is an aluminium build. This is a 60 percent format size keyboard with RGB colour lightning. Overall a great compact size keyboard with Cherry MX switches.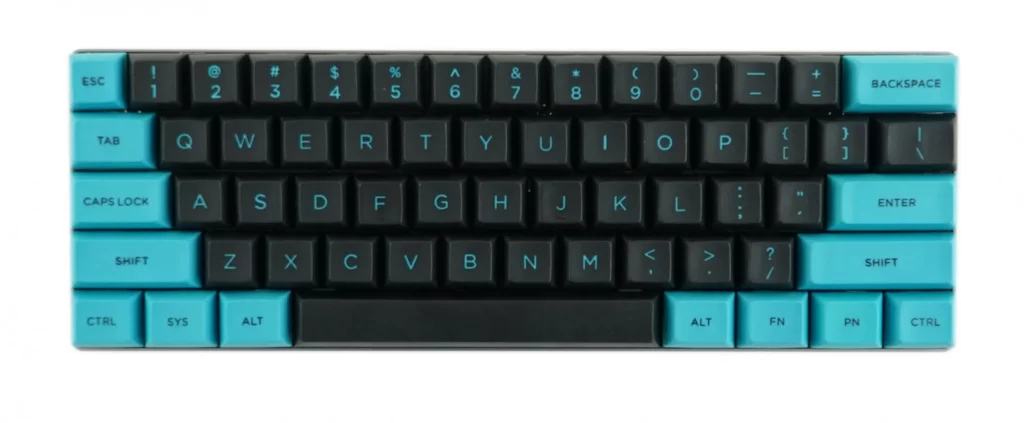 If you are looking for a cherry MX switch keyboard in this price range then you can go for this one. It comes in a blue-black colour design. The keys are double-shot Pbt but not hot-swappable. No software for RGB customization.
Pros-
Cherry MX switch
Flat key design
Aluminium build
Cons- 
No wireless connectivity
No keycap puller
KBParadise V60
From the brand KBParadise, we have the model v60. It comes with a plethora of switch options. But the price may increase depending on the switches you choose.
So to be in the budget of 100$. The switches you are getting will be Datacomp ALPS Blue, Fukka (Fuhua) White & ALPS Brown. All these variants of switches are under the 100$ price range.

All the other switches like Cherry MX, kalih, and Matias are also available but cost more. Keycaps are Doubleshot black colour with the white legend on top and sides.
Not too fancy here just the same old mechanical keyboard. Comes with a key puller and extra keys like Esc, ctrl, alt, fn, and command keys. A sturdy compact keyboard with a weight of 1.12lbs.
Pros- 
 RGB
So many choices for switches
Key puller inside the box
Cons- 
Not hot-swappable
No wireless connectivity
Vortex Cypher Split Spacebar US2
Again coming from Vortex brand the cypher split spacebar model. You can also buy the single spacebar version if you want. This is a 60 percent keyboard with a 65 percent features.
This keyboard has arrow keys and extra keys like page up and page down as well. In this keyboard, you have the cherry switches and you can choose any cherry MX switch you want like black, red, brown etc. with little to no base price change.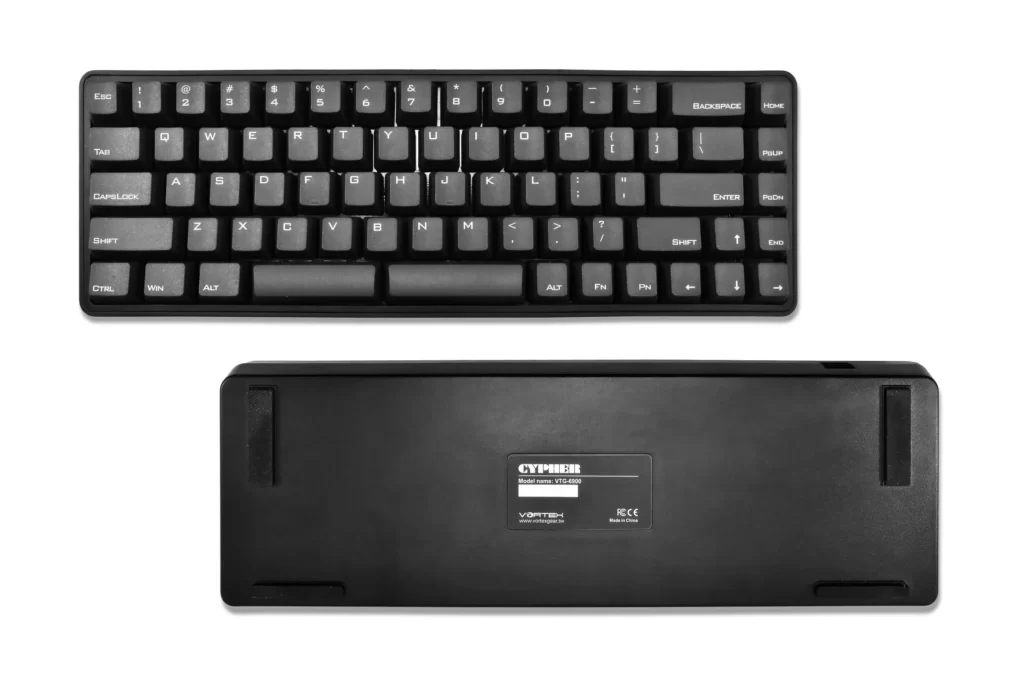 Strongly recommended for cherry MX lovers. But there is no height adjustability if you want to type all day. This one is a very nice budget keyboard with arrow keys and a compact size. In one line a simple-looking mechanical keyboard for home and office use.
Pros- 
Cheery MX switches
Type-C
Arrow keys
Cons- 
Not hot-swappable
NO keycap puller
Ace Pad Tech APT04
Now we have a totally different mechanical keyboard here. The brand Ace Pad Tech APT04 is a compact keyboard with different kinds of switches.
You may have an idea about these keys by the name of the brand already. If not then let me tell you these are not your normal cherry MX or kalih switches. APT04 come with Hall-effect switches.
The hall effect switches are different from the normal conductive mechanical switches. Hall effect switches are more like magnetic switches. To put it in simple words the normal mechanical switches have friction when we press them, but the hall effect switches have magnets inside which makes the keypresses frictionless and smoother than conductive switches.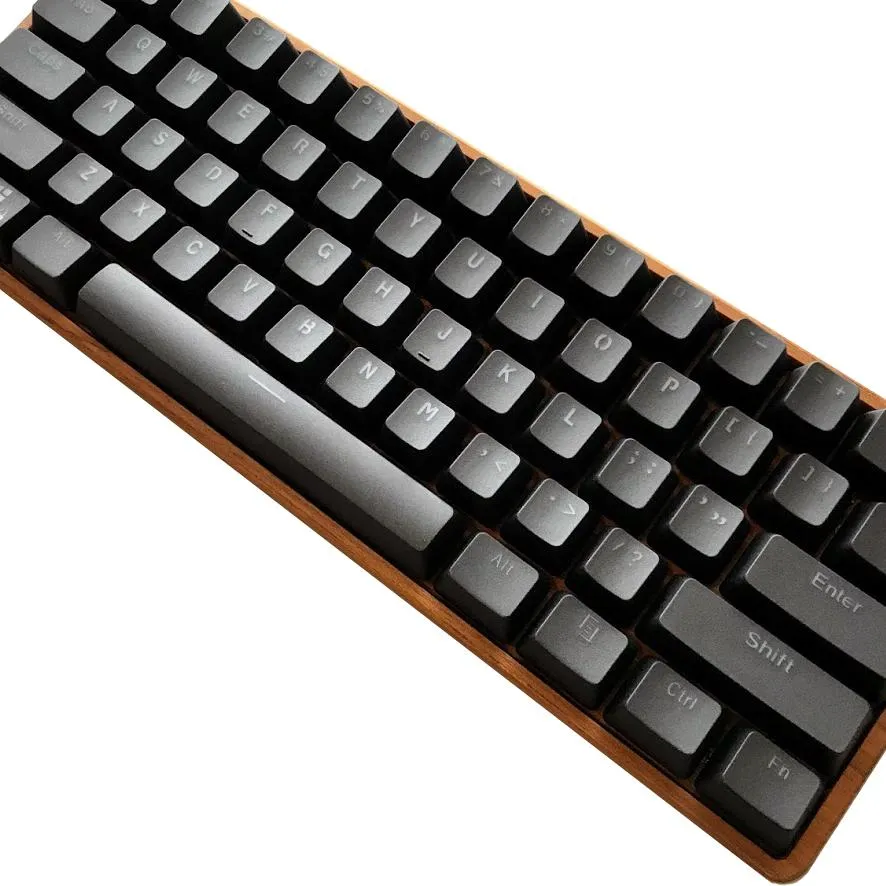 The keypress cycle of hall effect switches is longer than the conductive mechanical switches. In APT04 you can choose all kinds of hall effects switches like linear, tactile or clicky. The body frame of this ace pad tech apt04 keyboard is made from teak wood, which makes it rot free.
The company also claims it to be a water-resistant keyboard. This keyboard uses a detachable Mini USB wire for connectivity. The weight of this keyboard is around 1.18lbs. The keyboard supports full RGB lights. 
If you want to experience hall effect switches. You should go with this one and try the frictionless smooth keypresses yourself.
Pros- 
Magnetic switches
Smooth keypresses
Longer life of keypress
Teak wood body frame
Cons- 
Uses Mini USB
Not hot-swappable
No key puller
Meko Blink
Meko blink another 60 percent compact-sized keyboard which comes with plenty of features. In the blink keyboard, you get hot-swappable switches, RGB lights, USB Type-C port for wired connection. Bluetooth connectivity for wireless connection.
You can connect 3 devices at a time. The body frame of this keyboard is all plastic. A lightweight, small size keyboard for gaming enthusiasts and mechanical keyboard lovers.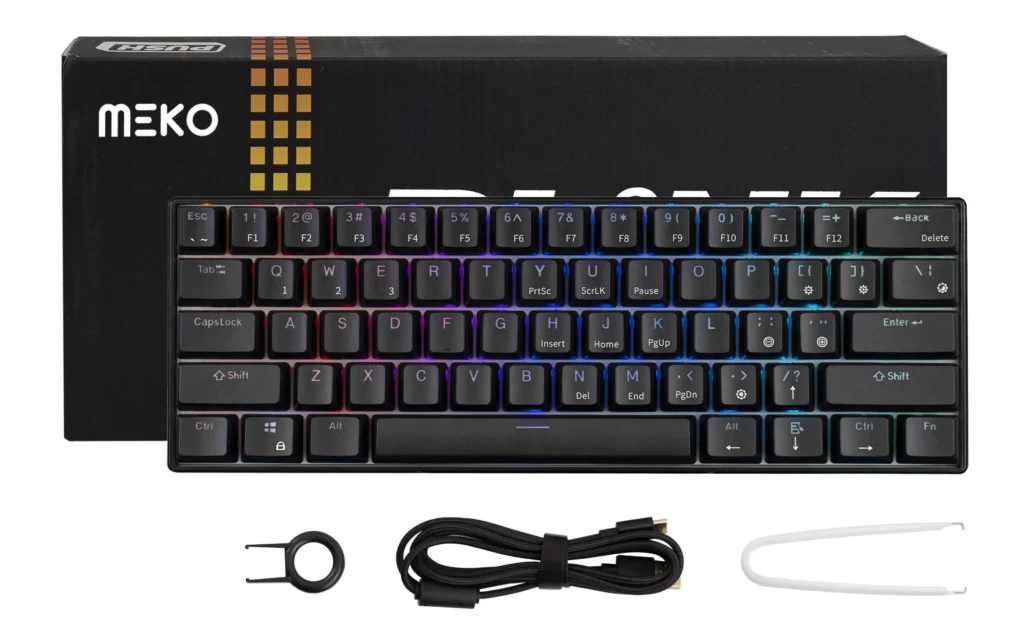 The keyboards cover all the major expectations of a user. Starting from gateron to cherry and Kalih all switches are compatible with this model. The keyboard comes with the key puller and switches puller inside the box for easy customization. 
Pros- 
Hot-swappable
Bluetooth connectivity
Type-C support
Cons- 
Plastic body frame
Conclusion-
From the list of these top 10 keyboards do let me know which one of the brands and models makes sense to you. If you ask me I will choose Ducky mini 2 for its quality and robust performance.
On the second position, We have the Ace Pad Tech for the hall effect switch keyboard. The hall effect is also good switches and you should give them a try. With the power of a smooth frictionless keypress and it also claims to have 30 billion keypresses lifetime. This concludes this post on the best 60 percent keyboard under 100$.