Thinking to buy a new best budget gaming keyboard this summer. I am sharing some of the best deals here so be sure to read it carefully, to make sure you are getting the right choice for yourself. All the keyboards are gaming intended but you can use them for the regular purpose also.
Best gaming keyboard under 3500 rs
All the keyboards here are deeply researched for their pros and cons, i will try to give you all the configuration and basic features they provide. I have made this review pretty short and compact but if you find anything incorrect please try to give feedback at last.
List of best budget gaming keyboard as follows-
1. AmazonBasics Mechanical Feel Gaming Keyboard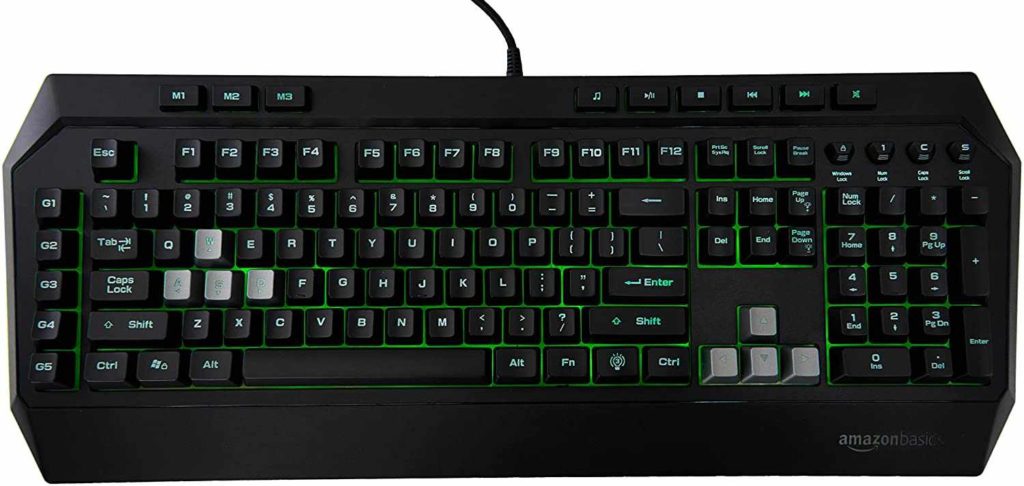 AmazonBasics Mechanical Feel Gaming Keyboard
As the name suggests mechanical feel
This keyboard is not mechanical it just feels to be
there is rgb lighting on this keyboard which can produce 16.8 million colors. easy switch provided for changeable 3 color cycles
switch life on this keyboard is about 10 million life cycle approx.
Anti-ghosting keys and programmable macro keys, this includes five dedicated keys (G1 to G5) and three-mode keys (M1 to M3) for up to 15 different macros.
Lock Switch for Game/Desktop Mode
One-Touch Media Controls
Click switches used

Cons- backlit is not that great / No braided cable
2. TAG GAMERZ Gaming Mechanical Warrior Keyboard

Illuminated Keys: Yes
Palm Rest: Yes, Stand Support: Yes
Special Key Types: Mechanical, Outemu Keys Backlight Color: Red, Green, Blue, Yellow, White With 18 Lighting Effects
Keyboard has a lifespan of 50 Million Keypress per key.
This best budget gaming keyboard comes with a braided cable to provided long-lasting durability
This gaming keyboard comes with blue mechanical switches
Cons- No true rgb only 18 lighting effects
No option for cherry mx switches
3. Redgear Canyon Gaming Keyboard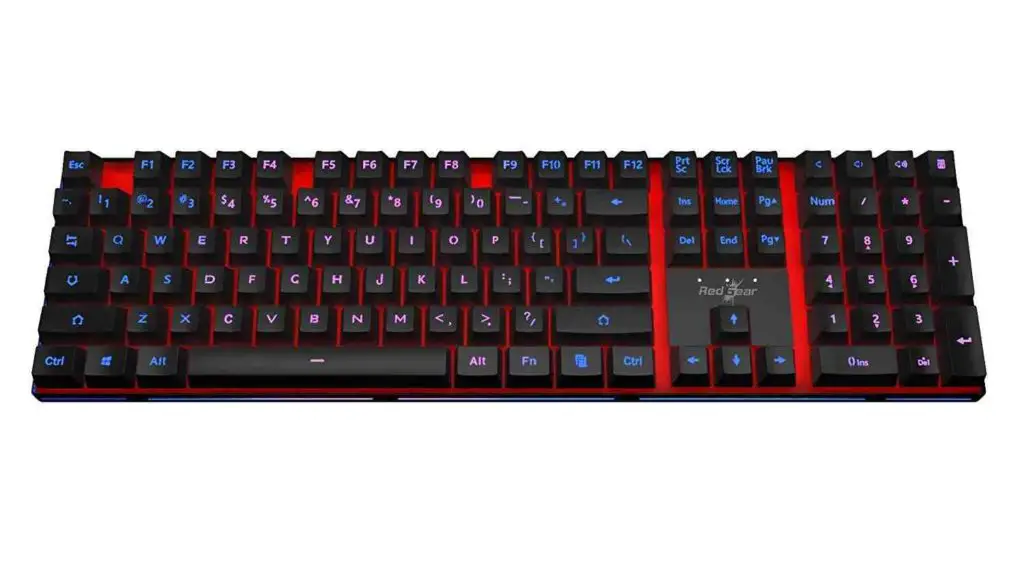 Double Injected key-caps and Windows Key lock
10 different light color modes, Lights are nicely visible in a daylight condition too
Adjustable led speeds and mix led and single led modes
Not a pure mechanical keyboard (semi-mechanical)
Good for day to day uses & gaming
The Keyboard comes with braided cable
Best gaming keyboard with all the necessary features levelup
Cons- No option to switch off the backlit
No height adjustment clips on the back
No palm rest provided
4. Zebronics Zeb- Max pro-Mechanical Gaming Keyboard
The Max pro comes with dedicated 104 keys and 12 multimedia keys to elevate your gaming experience
It is a full-size mechanical keyboard
18 LED modes with 6 levels of brightness this is an absolute must-buy for every gamer.
Max Pro comes with a retractable stand and a braided cable
It uses outemu blue switches This one is good but not really a best budget gaming keyboard
Cons- No palm rest
It should come with optional cherry mx switches
Ghosting issues
5. ZEBRONICS MECHANICAL USB WIRED KEYBOARD MAX PLUS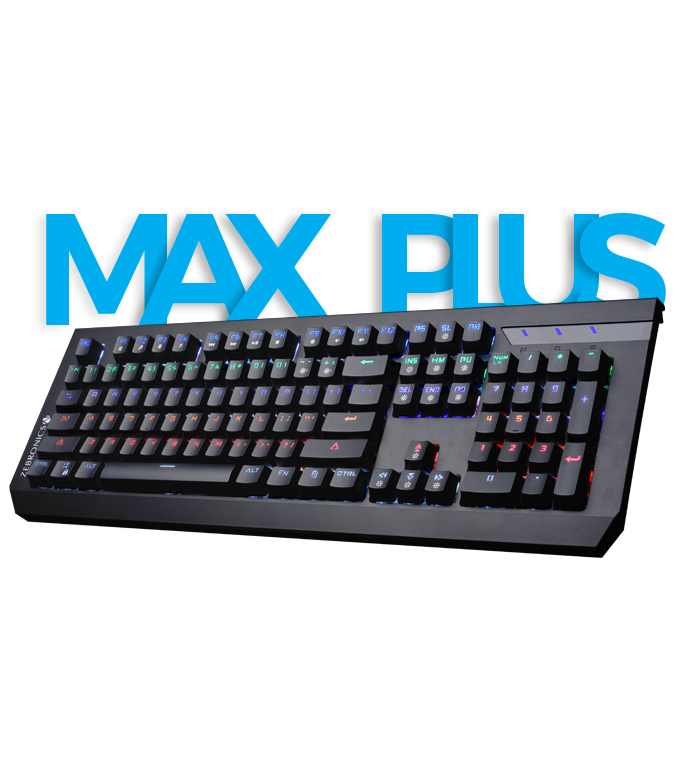 The Max plus comes with dedicated 104 keys and 11 multimedia keys to levelup your gaming it's a full size mechanical keyboard
Outemu blue switches used
Weight 1.27kgs, 36.5mm thickness
Comes with braided cable of 1.8meter
Comes with backlit and windows key lock
10 LED modes with 5 levels of brightness
Cons- No palm rest
No true rgb
No option available for cherry mx switches
6. Redragon Karura K502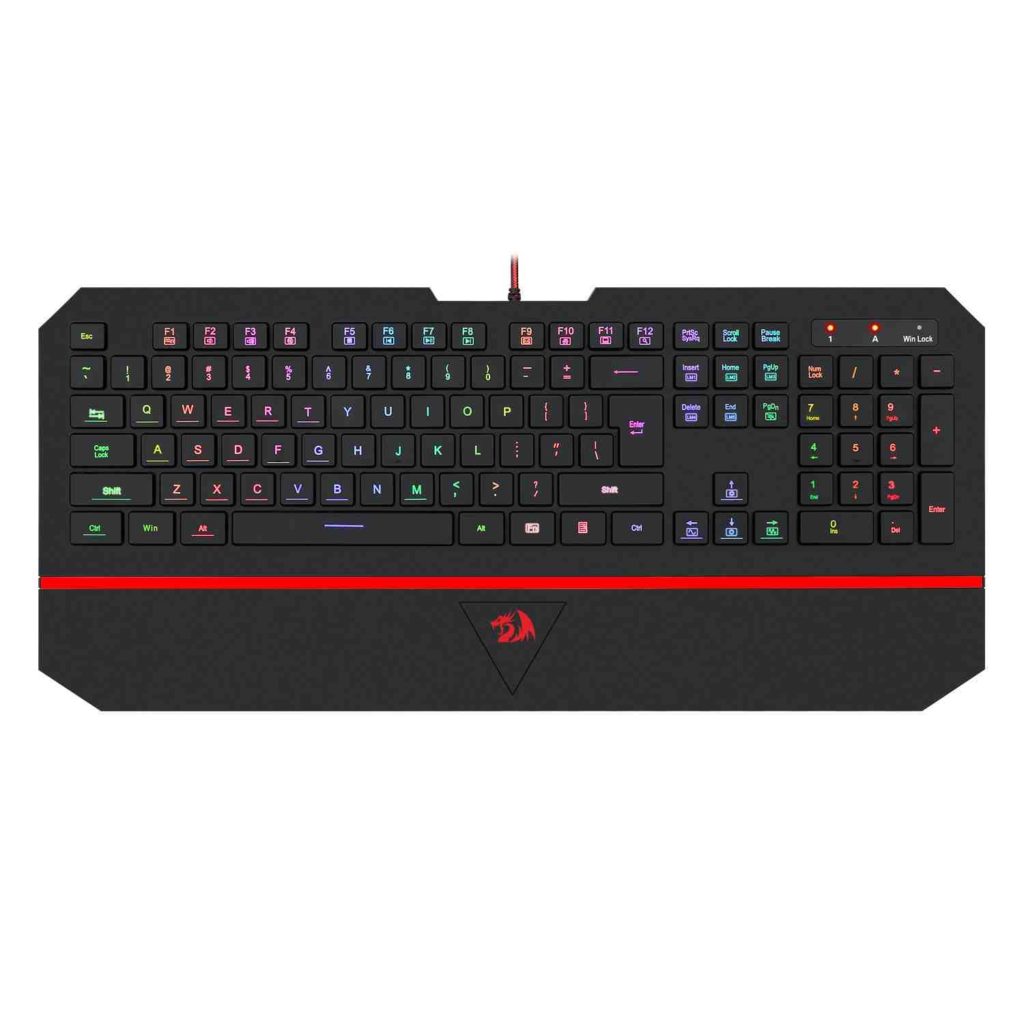 Redragon karura comes with 104 quiet keys for silent gaming
Its not a mechanical keyboard but it's a chicklet style keyboard
7 led colors and 4 different lighting modes
Brightness is adjustable
Extra large wrist rest and comes with braided cable
Low profile design for compact gaming
Led Lights can be turned off
spill-resistant keyboard
interchangeable "up and down arrow" keys with "WASD" keys
Cons- It says anti-ghosting but users experienced some sort of ghosting
No true rgb
7. Cosmic Byte CB-GK-12 Neon Rainbow Backlit Mechanical Keyboard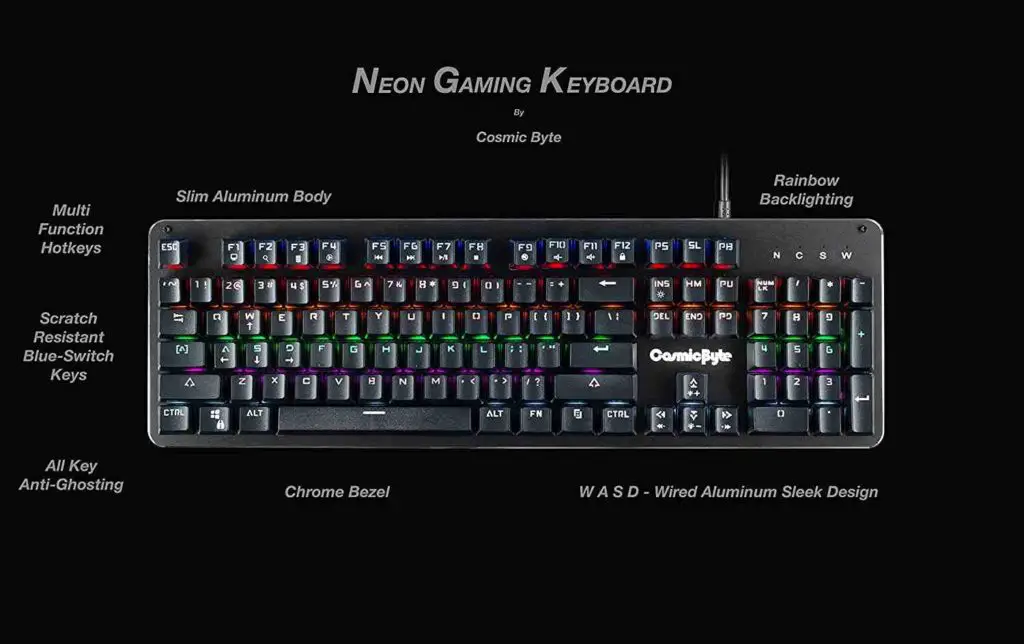 Sleek & Slim Wired Gaming Keyboard with Aluminium Body
Blue Switch Keys for greater tactile experience
JIXIAN Blue Mechanical Switches
Rainbow LED Backlighting with 10 – Back-lighting Effects
3 Level Brightness Adjustment, 3 Level Backlight Speed
All-Key Anti-Ghosting
Multimedia Hotkeys
Scratch-Resistant Keys with 50 Million Keystroke Life
1.8 meter long Cable with USB Interface
Keyboard Weight: 980 grams.
Cons- The user manual has a lot of mistakes and has wrong features written
No braided cable
No true rgb
Aluminum plate is scratchy
Lack of memory to remember the last backlit pattern
8. Redgear Manta MT21 Gaming Keyboard and Gaming Mouse Combo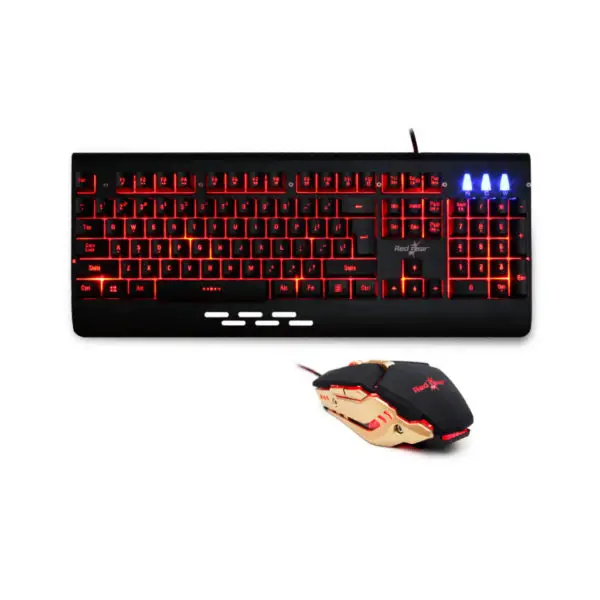 Manta 2.1 is a membrane keyboard and not a mechanical one
This gaming keyboard comes with 3 LED color light which gives you different LED modes.
Windows key lock option available
Comes with 19 anti-ghosting keys, If you press all your fingers down on a piano, what you'd get is 10 keys ringing out at once.
This keyboard manta Comes with a gaming mouse
Which supports 800/1600/2000/3200 DPI adjustment and DPI indicator. 50IPS max speed and 10g acceleration. 5 million click lifetime.
Keys with 10 Million Keystroke Life
Mouse- Redgear Manta gaming mouse
Optical sensor
Speed:- 50ips (max)
Acceleration :- 10g (max )
Adjustable dpi setting: – 800/1600/2000/3200
Cons- No real rgb
Not a mechanical keyboard
9. ZEBRONICS Gaming Multimedia USB Keyboard & USB Mouse Combo –Transformer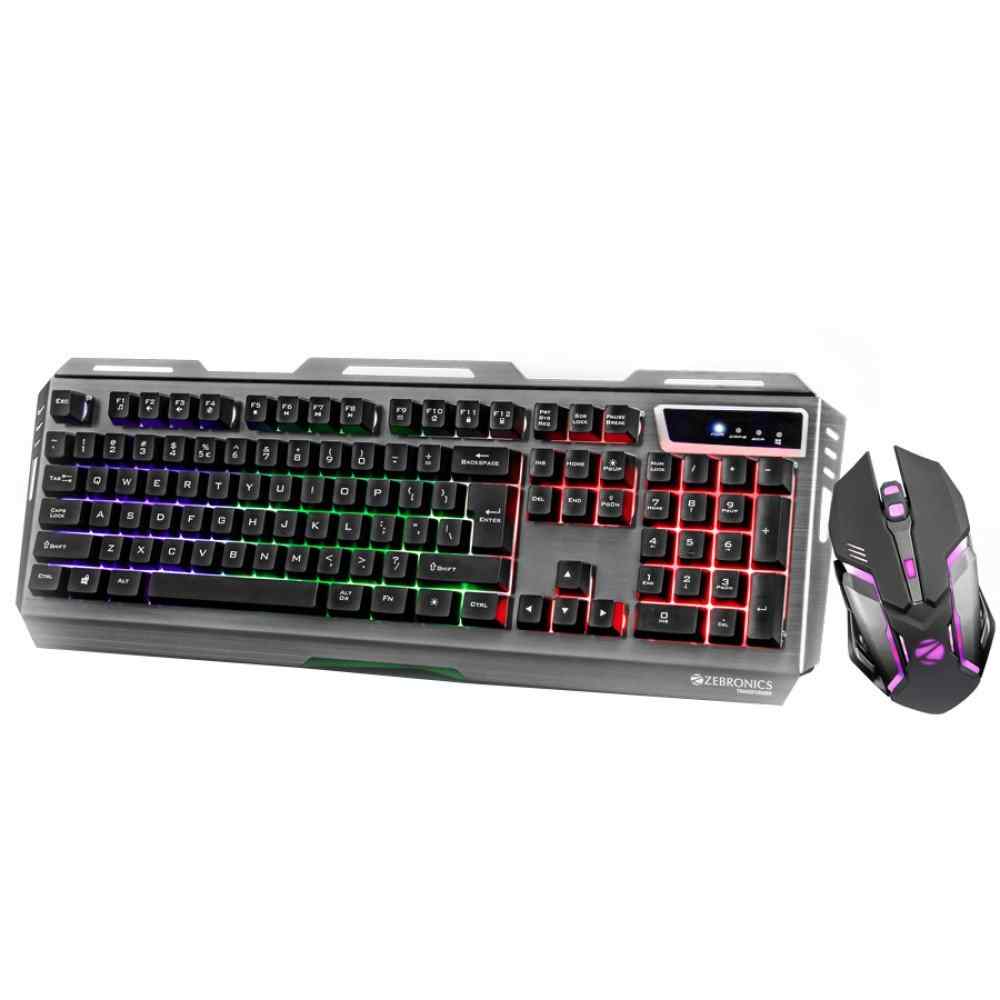 Integrated media control keys
Multi color LED with 4 modes – 3 light mode & 1 off mode
WIndows key enable/disable function
All keys enable/disable function
2-step stand
Laser keycaps
Aluminum body
Backlight LED ON/OFF function
Gold plated USB
Braided cable 1.8 meter
80 Million Keystroke Life
Mouse Features –
Breathing LED – 7 colors
Compact & Ergonomic Design
Dedicated buttons for DPI,Forward & Backward
Works on most surfaces
High Quality button
High Precision
Gold Plated USB
Braided Cable
Cons- Not a mechanical keyboard
No true rgb
Switch quality unknown
Key caps letters are not transparent
10. Cosmic Byte CB-GK-02 Corona Wired Gaming Keyboard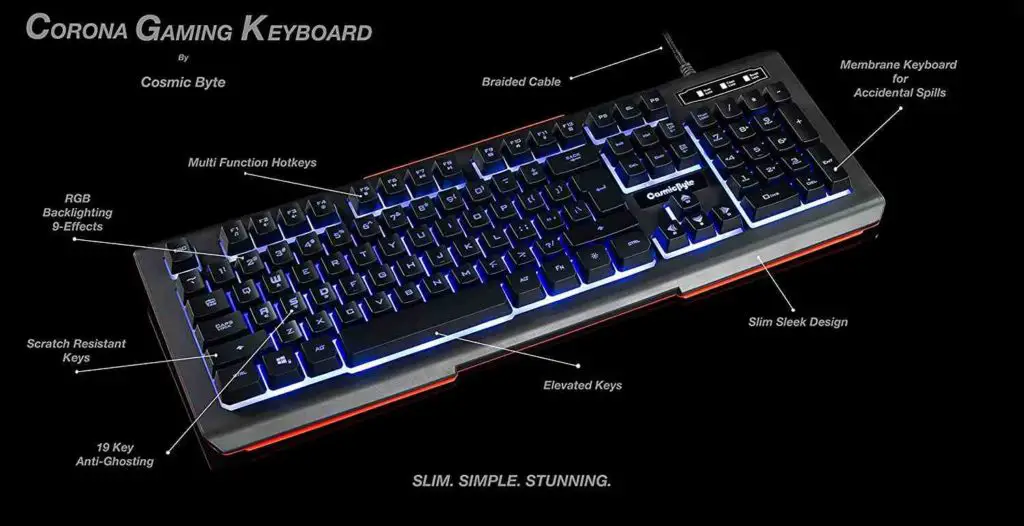 Sleek & Slim Wired Gaming Keyboard with Flat Profile.
Elevated Keys for greater tactile experience.
7-Colour RGB Backlighting with 9- Backlighting Effects.
RGB Led Back-Light with Sonic Spectrum
 19-Key Anti-Ghosting.
 Multi-Function Hotkeys.
Scratch-Resistant Keys
10 Million Keystroke Life.
1.6 meter long Braided Cable Sonic Spectrum function- with the inbuilt microphone the keyboard has an amazing and unique function where the LED will respond to the surrounding sounds like an Equalizer. This Sonic Spectrum function is only available with the CB-GK-02 Corona RGB Model.
Cons- Membrane keyboard
No true rgb
11. HP K320 Gaming Keyboard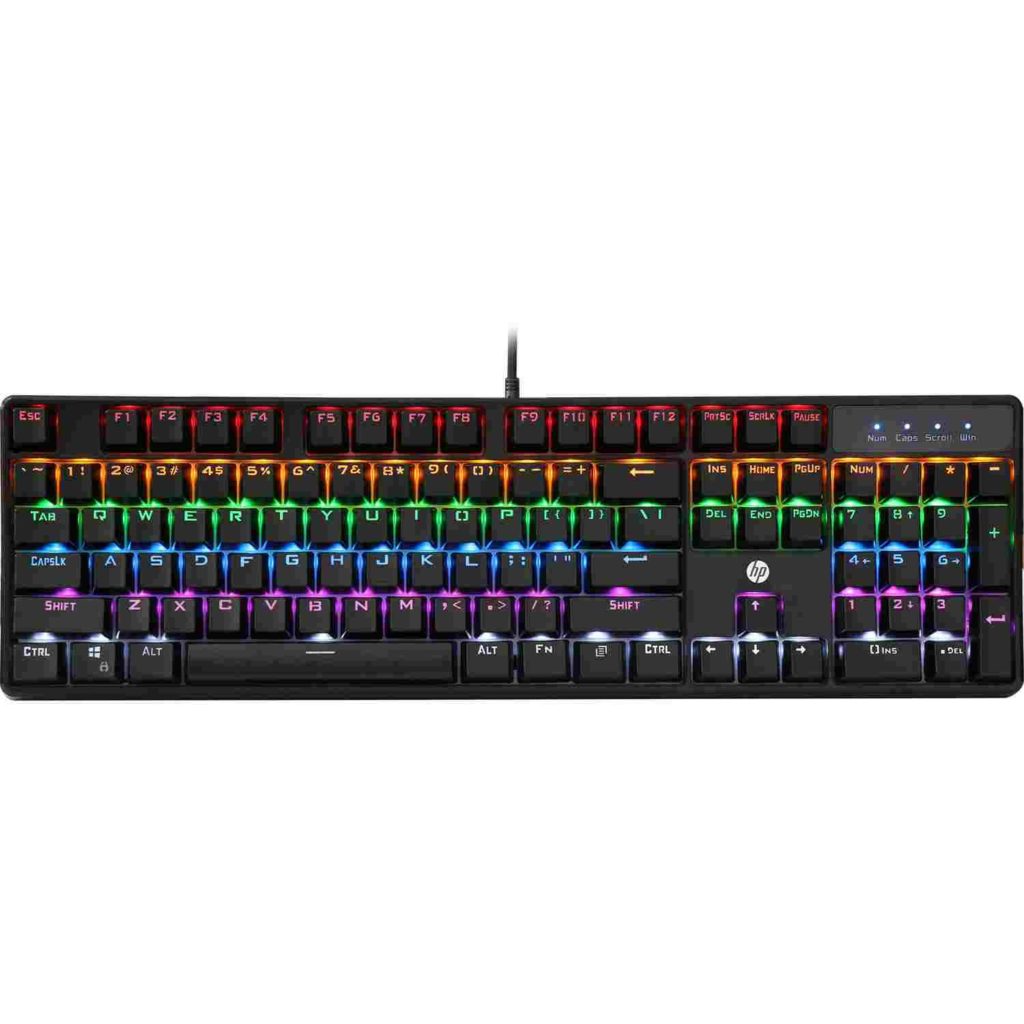 Full-size gaming keyboard with a 104-key layout
7 color rgb backlight effects and brightness control
Elegant & Minimalist Design
Highly durable, double-shot injection key-caps
50 million time keystroke life
Supporting 6 keys and N keys anti-ghosting mode.
Intelligence auto-sleep mode: Keyboard goes into sleep mode to turn off all LED after 10 minutes of idle.
Press any key to wake up.
Cons- No true rgb
Simple rubber cable no braided cable
No palm rest
12. Ant Esports MK1000 Multicolour LED Backlit Wired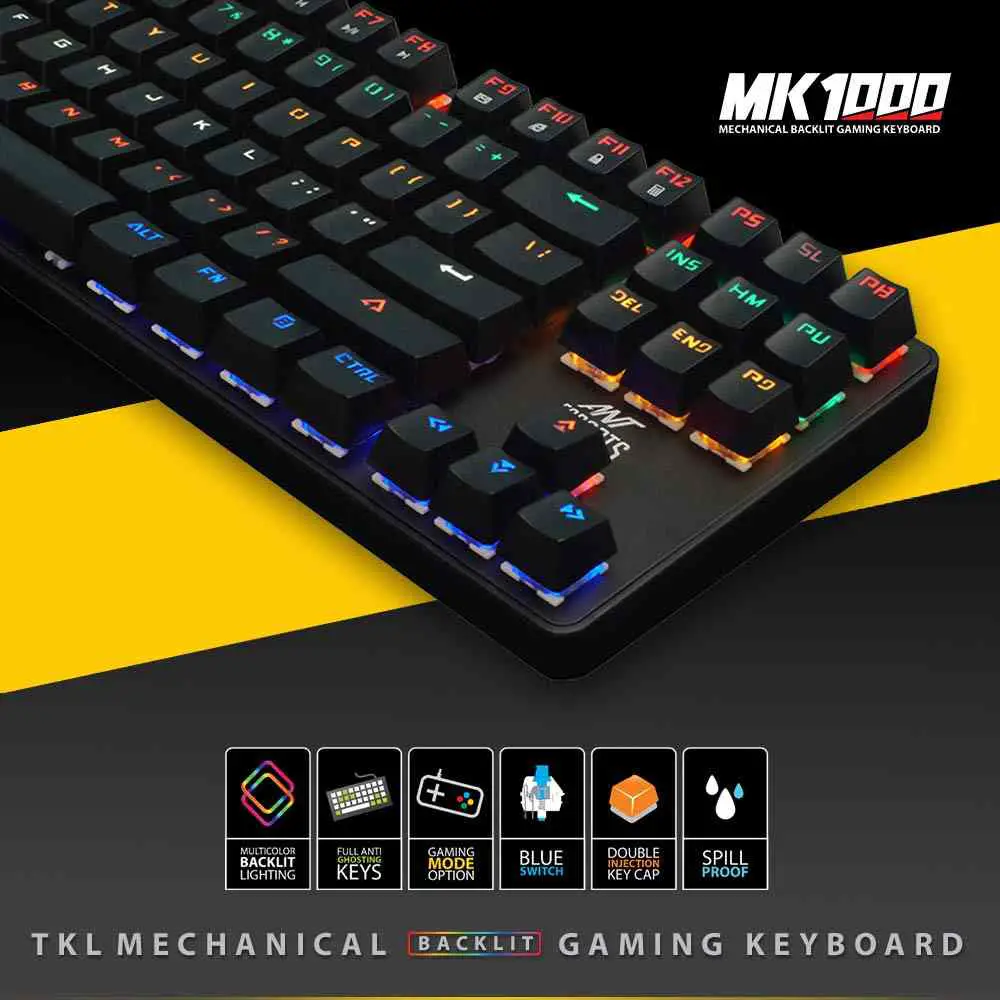 Mini mechanical keyboard with 87 keys
7-color backlight (each row has a different specific color), 6 preset lighting effects.
Full 87 keys support anti-ghosting
Water-resistant keys
50-million-keystroke lifespan
Switch type Outemu blue
Custom game mode provides an option to Create and save 2 additional backlight settings.
Cons- No true rgb
No braided cable
No palm rest provided
Full plastic build keyboard
Note- All the information provided here is views, opinions expressed by the author and this post is not sponsored & make sure to check our other article also click here