Today, we are going to review earphones from the brand poweradd model s9 truly-wireless earbuds.
So if you are in the market looking for a new pair of budget wireless earphones. then this post may be helpful to you. Reading this post carefully might help you in finding your desired product. And one more thing, if you read it till last then there is a hidden surprise for you.
This post will include-
Features the s9 offers
Functionality
Sound analysis 
Design and quality
Charging time
S9 earbuds Features- 
Why you should buy s9, well it offers a truly wireless feel. It is equipped with the most up-to-date Bluetooth 5.0 connectivity. This ensures excellent sound and connectivity for longer periods with no interruptions.
The poweradd earbuds are also sweatproof, which is useful if you prefer to listen to music while doing sports. These earphones are so compact and convenient to carry in your pockets that you may forget they're there.
S9 Functionality-
Let's understand the functionality of s9 truly-wireless earbuds in brief here. The chipset used in these earbuds is AC6976 Jerry Chip.
Which also supports an in-built microphone for calling purposes.
The Earphone comes with Bluetooth 5.0. First, Bluetooth 5.0 enables super-fast connectivity.
Second, the connection is extremely strong and provides a good range with your smartphone.
The range is also four times Bluetooth 4.2. It implies that your smartphone and Bluetooth speaker will be able to communicate with each other up to 260 feet apart (if no walls interfere). That's a significant increase above Bluetooth 4.2's 30 feet limit.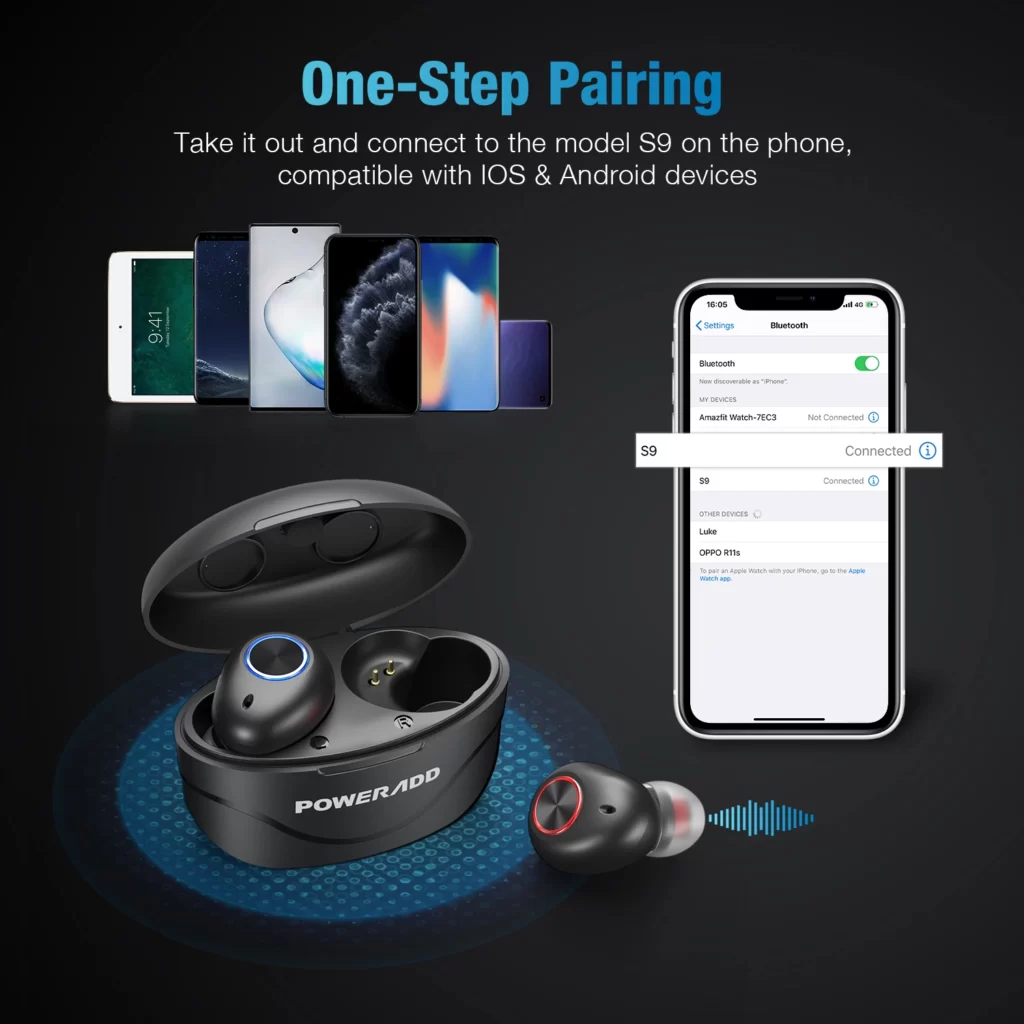 How to connect them-
Turn on Bluetooth on your device.
Remove the earbuds from the casing.
You'll notice that they're starting to blink now.
They're in pairing mode if they're blinking.
Now all you have to do is look for it on your phone.
When the product name appears in the Bluetooth area, click on it.
Click on it and is now connected.
Touch Functions on the earbuds-
Longer pressing on earbuds will turn them off/on.
A single tap on earbuds for Play or Pause (music).
Double-tap on the left earbud for the previous song and the same on right for the next song.
Single-tap to answer or end the call.
Triple tap to start Siri or Google assistance.
Earbuds Sound analysis- 
Now comes the most crucial portion of this article. What's the audio quality of this device? It usually differs from person to person. Like what sort of music they prefer, such as jazz, rock music, or electronic dance music (EDM).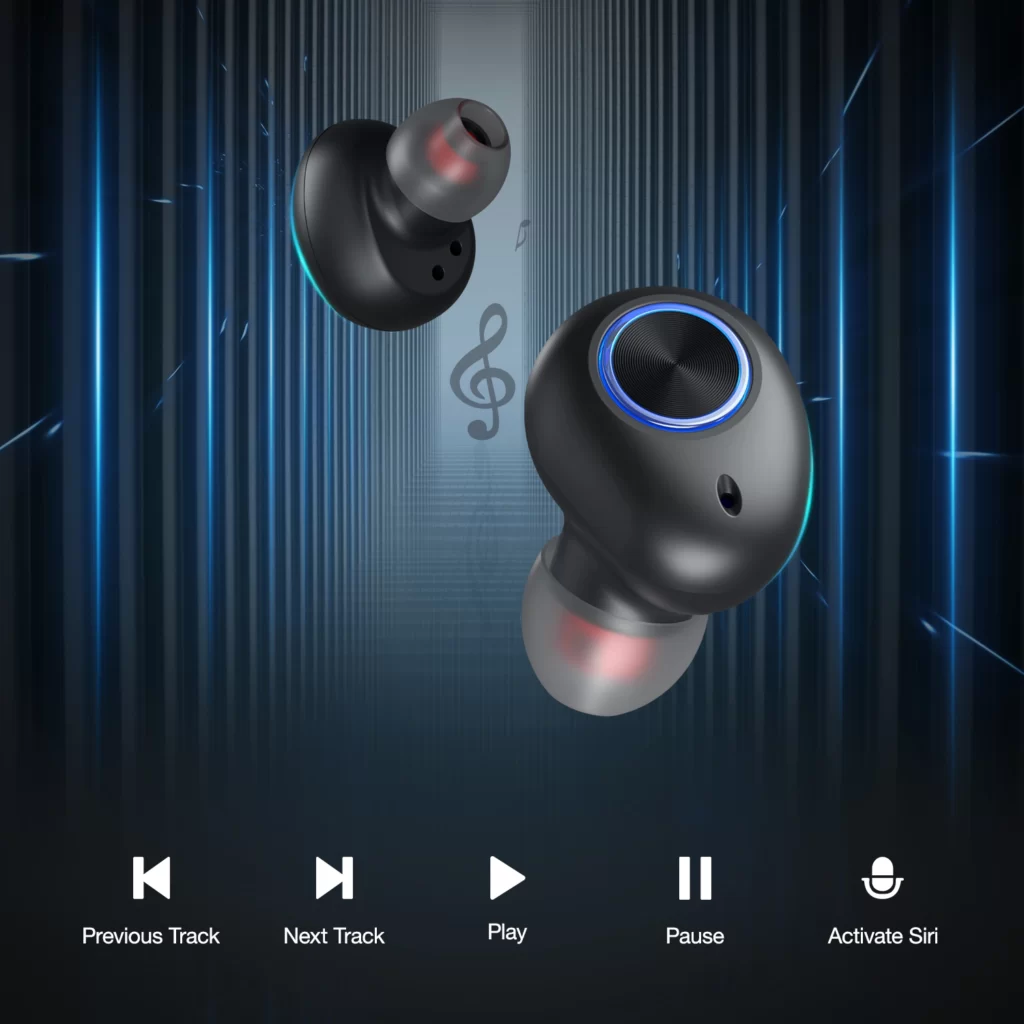 On a broad scale, I'd say they do quite well. These earbuds will get the job done. Depending on the device, the sound quality of the earbuds may be enhanced. They sound best on a sound level of 80-90%. These budget wireless earbuds come with noise cancellation technology. Which provides crystal clear music even if you are not in the most silent room.
Design and Quality-
The Poweradd s9 earphones come in a beautiful case. the case of these earphones acts as a charger for the earbuds. The charging case has a magnetic feature. This helps to get the earbuds in the case easily and at the same time puts them on charging mode.
The lights will turn red once they are in the case. If the light is not turned red it means either your case is discharged or the earbuds are not placed correctly inside the case. 
The quality of the case and earbuds are really good. The material is plastic so you may have to be a bit cautious or they may get scratches very easily. 
Earbuds Charging time-
The s9 earbuds come with a beautiful charging case. The battery capacity of the charging case is 450mAh. And for the earbuds, it's 50mAh each piece. The charging interface is a micro USB. It takes around 1.5 hours to charge the case full from 0-100%.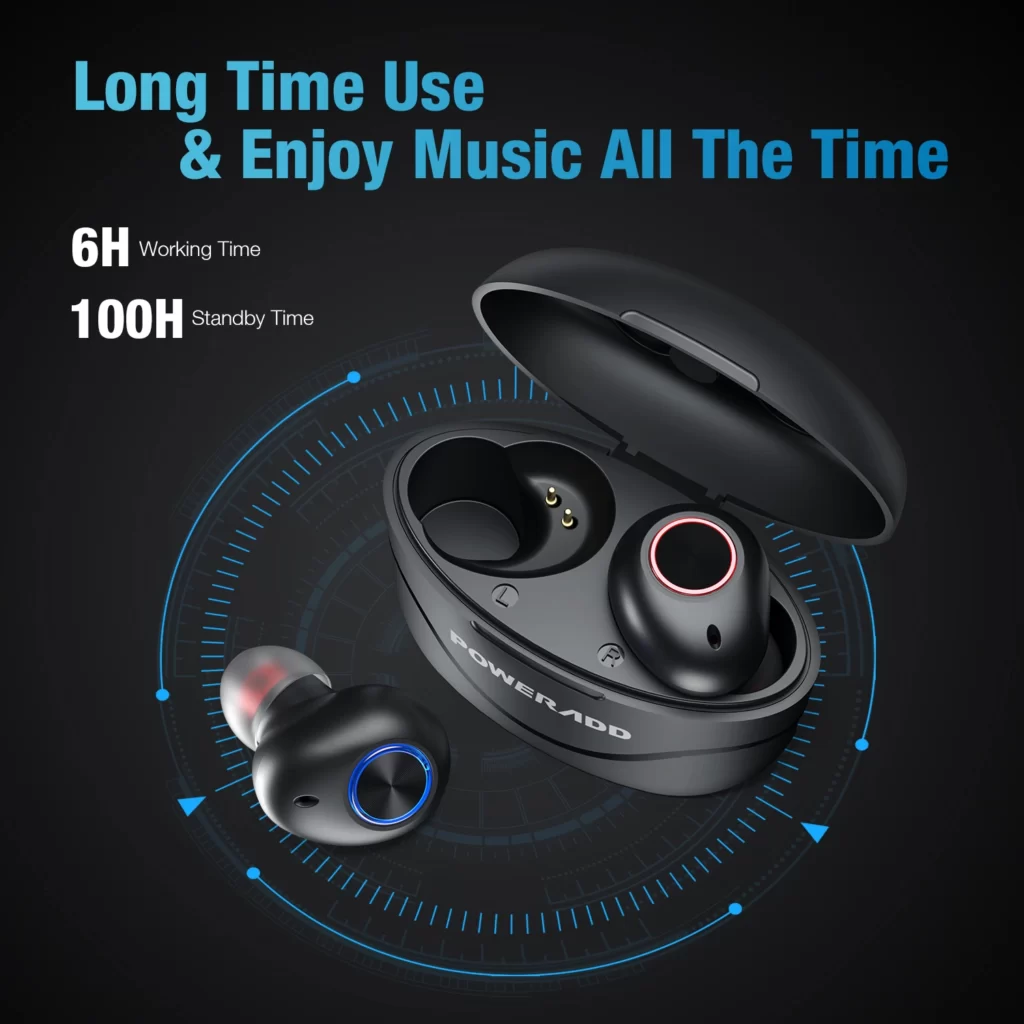 The earbuds will take around 2 hours to fully charge. The average run time of earbuds is around 4-5 hours and with the charging case, you can use them for around 20-22 hours. 
Conclusion-
The s9 wireless earbuds are very much capable at this price point. what it offers that others may be lacking is-
fast charging
less expensive
stylish case
truly wireless
sweatproof for our gym lovers
Bluetooth 5.0 with (backward compatibility)
This concludes our review here of s9 truly wireless earbuds from poweradd. Now the surprise is those of you who wanna buy these earbuds can use the code "EZDMAZ" to get 20% Off instantly. Buy here- Poweradd Wireless Earbuds Bluetooth