Today's topic is best party speakers with bass. entertainment devices are nowadays quite tech-savvy. Like before we used to have radios, Tv, music system and now iPods and mobile phones have taken the place.
Now the digital music is so crisp and clear and sound quality is now equally balanced whether it is a wireless device or a wired one.
These new devices can now store 1000+ music files in our pockets. If you still want more then we can access unlimited files using the internet.
When music and storage options are getting so unique then why the way of listening is not changing.

well, we can't just bluntly say that it's not changing but more in a manner it's evolving bit by bit. Here in this post, I am going to share some of the best party speakers with bass which is best for music lovers and party throwers.
Top 10 list here-
JBL PartyBox 110 – Portable Party Speaker with Built-in Lights, Powerful Sound and deep bass
Anker Soundcore Motion Boom Outdoor Speaker with Titanium Drivers
W-KING 80W Bluetooth Speaker Loud
Soundcore Trance Bluetooth Speaker,
Sony XB72 High Power Home Audio System with Bluetooth Technology (GTK-XB72) Black
Sony MHC-V13
Philips BASS+ NX200 Wireless Bluetooth Party Speaker
Dolphin SP-210RBT
Brookstone Big Blue
Portable Party Speaker with Built-in Lights, Powerful Sound and deep bass-
(one of the loudest party speakers in my opinion)
number first on our list is from the brand JBL model name PartyBox 110 portable party speaker with powerful sound and bass. this JBL speaker right here is a good choice in the best party speakers with the bass segment under the 399$ price bracket.

This outdoor speaker is loud enough and supports 160w power output. the speaker has 2 woofers and 2 tweeters. the battery life on these speakers is supposed to be 12 hours running time. And to charge this party beast it supports the power input of a 100-240V AC adapter.

JBL PartyBox 110 supports Bluetooth version 5.1 which provides great sound. party box can be synced with another party box using the true wireless stereo technology which is mentioned on the official site. pair it with another jbl partybox and enjoy even loud music and have a blast!

Multiple options are available on this device to enjoy your music, you can plug your pendrive, or plugin using the 3.5mm jack and yes bluetooth for wireless music.
This JBL speaker has a partybox app that can sync your music with the lights present on the speaker. so you can give your audience a party vibe and show them who's the DJ.
the JBL party box supports IPX4 waterproofing. which in general means the device is splashproof and not fully waterproof.

You can adjust the bass manually on this device. which is a great feature in case you want it more on the balanced side.
One of the best party speakers with bass and a splash-proof design.

The next on our list is from the brand "Anker" outdoor bluetooth speaker with such an amazing sound. If your budget is under 200$ then you should take a look at this. The speaker right here is a portable bluetooth speaker with 24 hours of playtime. just double then Jbl partybox.
The Anker soundcore party speaker supports USB -c charging.
which keeps this thing going for up to 24 hrs.
the device supports a battery capacity of 10,000 mAh. And it takes about 4 hours to charge fully.
This speaker comes with a 100% pure titanium diaphragm which boosts the music to 40khz.
Anker soundcore motion is an ipx7 rated fully-waterproof device.
So stay tension free even if the speaker gets wet.
5.0 Bluetooth version is supported for wireless connectivity.
You can also pair two motion soundcore to boost the sound in your party.
These speakers can also charge your mobile device using the PowerIQ technology.
Party speakers with lights w-king 80w
W-King 80w as the name suggests the speakers are consists of 80w sound output. the exact model name is t9-2. the maximum sound output is going to be 105db.
The device supports type-c charging for fast charging. the device is also capable to play sounds from multiple options using a pendrive, aux cable or tf-card slot.

The speakers come with Bluetooth 5.0 version for providing clear and crisp sound wirelessly and without any loss in sound.
12000 mAh of bigger battery keeps it going for up to 24hrs, once it's fully charged up. making this one the best bluetooth speaker for the outdoor party.
The same style of two w-king t9-2's can be paired. but the only condition is that model no. needs to be the same as the other speakers as well. so be aware at the time of purchasing. Always check the model number if you want to pair up these speakers.

LED Lights is present in the device in a variety of Colors-
W-KING Bluetooth party speaker has six different light modes:
1. Musical Rhythms (Pulse from bottom to top)
2. Rotation in a half-circle (rotate with the rhythm of the music )
3. Rotation in a full cycle (rotation speed is automatic)
4. Rhythm in a Flash (brightness flashes with the beats of the music)
5. Musical Advantages (from the middle to the upper and lower pulse)
6. Turns the lights off.

The only thing which it lacks is ipx certification. which means the device is not waterproof. so no pool parties or any kind of outdoor activity which may lead to getting the device wet in outdoor or indoor sessions.

Again from the brand Anker, we have another speaker named soundcore trance bluetooth speaker with thumping bass and mesmerizing music.

Anker soundcore bluetooth speaker can produce sound up to 101db which is great if you are looking for a compact speaker with adequate sound quality.
Like all the other bluetooth speakers mentioned above, this one also has indoor and outdoor modes. so the music can be enhanced as per the user intention or mood.

With the help of the soundcore application, which is available on all platforms. Users can interact with the lights and choose between the outdoor and indoor modes. the indoor mode provides balanced music while outdoor boosts the bass for better performance.
Soundcore app also has some interesting fun activities which make every party a fun party with in-built games like Truth or dare, spin the bottle. To add extra fun to the parties.

The Anker soundcore speaker is fully waterproof with IPX7 certification as mentioned on the official website. The device is fully waterproof from the inside out. so no worries with water splashing or accidental water splashes.
The device supports dual Bluetooth pairing, so you can play music from any device you like. These best party speakers with bass bluetooth can also be paired with another soundcore speaker to enhance the sound.

You can also charge your mobile device in an emergency from the soundcore speaker. using the inbuilt charging facility with the power figures of 5V.
For easy handling, the device comes with a handle to grab it easily and move wherever you want with ease.

The battery capacity is a bit low compared to the other speakers. but in this price range, I guess the features this speaker offers exceed the battery percentage.
The battery capacity is 4900 mAh which can deliver 18 hrs of music playback.
The maximum music output this speaker can provide is up to 80w RMS.

Next on our list is the brand "SONY" this speaker is a great choice for party lovers. This speaker has everything from the colourful lights to djing stuff.
Sony xb72 supports Bluetooth 4.2 with NFC functionality (near field communication). so with just a touch you can pair it up with your speaker and let the party start.
xb72 can output 60w of max RMS.

There is also one more unique feature in this speaker which lets user pickup calls hands-free while music and playing without disconnection.
Come with a sony music control app for other features which can be accessed using the application on mobiles.
the USB port on the speaker helps in playing music as well as charging the device simultaneously.
Stream music using the sony music control application and control your speaker using the mobile device.

This speaker also supports FM radio, if you ever need to just take it easy and relax or listen to news channels on the go.
Speakers can be paired up with other speakers to boost the sound.
Supports mic input for karaoke nights.

Well, this sony speaker is exceptional, the amount of features this one speaker has gives other speakers a run for their money. The speaker is Bluetooth enabled and provides excellent sound in this price range.

Sony MHC is exceptional becoz of the price of 249.99 this one has a cd player, A FM radio and built-in mic input for karaoke singing.
The only thing which is going to be the deal-breaker for some is that the speaker is not battery powered and has no ipx certification whatsoever.

This speaker has lots of functionality there is no denying it. But the user may or may not find it useful in the long run. AS the technology is rapidly changing.
Speaker comes with a double AAA powered battery remote with a plethora of functions as well. with the help of a remote one can use all the functions which incudes EQ mode changing, DJ effects and all the other normal functions to access the CD player and FM radio.

The speaker also has all the functional buttons present on the speaker itself. so in day to day life, you won't be needing that remote which comes included in the box.
As I mentioned earlier there is no ipx certification, so no waterproofing. And this one also lacks NFC support. Go for xb72 if you want the NFC functionality.
Download the fiesta app for enjoying all the party features this speaker has to offer.

The Philips bass+ nx200 has led party lights, and fun karaoke male/female effects. Comes with dual bass woofers which give 160w of max sound output. The cheapest party speakers on this list.

Supports 2x mic inputs and 1x guitar input (6.3mm).
The in-builts lights flash with the music and have different profiles to match the party vibe.
it weighs about 7.7kg and to carry it easily there is a built-in carry handle for easy handling.
On battery, it can give a max of 14 hrs of music playback non-stop.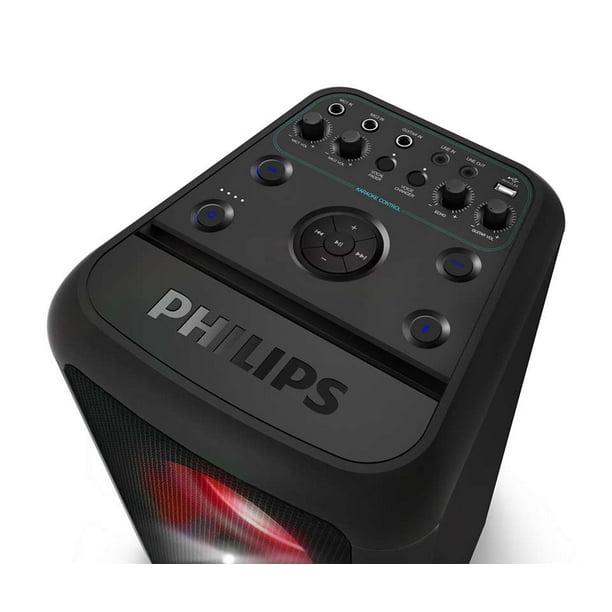 Bluetooth supports 10m of range and the bluetooth version on this device is a mystery.
On its own, it's a good party speaker with not so loud and distortion-free music experience.

This speaker right here is the best party speakers with bass in just around under 200$ price tag. The speaker supports all the general functions like Bluetooth connectivity, microphone input, FM radio, SD-Card playback.
All n All this dolphin speaker has everything you need on a budget.

The model name is SP-210RBT and it also has party mode with party lights which flashes with the music. There is a manual button on the back of the speaker to turn the lights ON/OFF.
Speakers also support guitar input, which is rare at this price point.
All the manual equalizer functions are also present on the speaker itself.
This system comes with a remote for easy usability.

It has an in-built battery of 7000mAh which can give a maximum play of 7 hrs in a single go. For extra battery life, there is one more extra feature. which is that you can attach an external battery to the speakers.
You can manually adjust bass, treble and echo which is a great feature and missed out even in bigger brands.
Trolley handle and wheels are present on the speaker for easy handling.

Speaker for small space check. ultra-lightweight check. The all-new Brookstone big blue speaker is going to be the ideal choice for students with small rooms.
The model no. is BKS800 from southern telecom manufacturers.
it can produce a max output of 60w.

Bks800 comes with Bluetooth 5.0 technology for crisp and clear sound with good battery life.
The Battery capacity on this unit is 5000 mAh which can give max playback of up to 20hrs.
You can also increase the speaker performance by connecting two Brookstone blues by pressing the link button on the speaker. which makes this one the ultimate bluetooth party speaker. The speaker is very light to carry around which makes it a portable party speaker in my opinion.

This is a party speaker so of course, there is going to be led lights built in. there are four modes, rhythmic, chill, mood and on/off.
The IPX rating on this device is rating 5.
which means the speaker is safe against normal water spray and very light rain (drizzling).
Heavy sprays of water can damage your device, so be careful.
Speaker has a built-in mobile/tablet holder and Qi wireless charging support for smartphones.
Manual controls are present on the speaker for adjusting the mic, bass, treble, and echo sound settings.
Conclusion-
The Bluetooth party speaker you wanted to buy depends on your style and preference. If you want more bass and rock your party then go with JBL.

On the other hand, if you want a fully-waterproof device then Soundcore might be the best choice. If you want more battery life then the best option for you is W-king.
Looking for a budget-friendly device then go with Soundcore.

The Bluetooth party speaker that I mentioned in this article. Are currently available in the market to be bought. This summarises the post on the best party speakers with bass & Bluetooth.