Canva the $26 billion design startup revealed productive visual worksuite
Canva CEO Melanie Perkins on canva create global event two days ago announced the new canva aka visual worksuite. At the event, she announced six new features.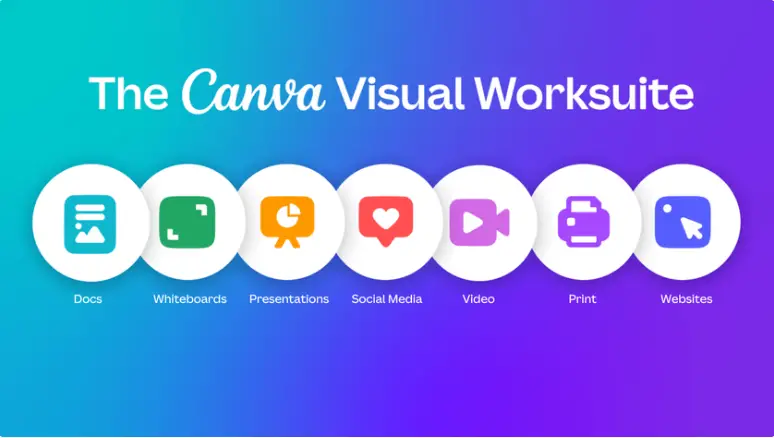 want to know what these new 6 features are –
1. Canva Docs –
canva introduced canva docs calling it a visually compelling document creator. As canva describes its visual document creator. means you can add different things to your document like adding a video, creating the document into the presentation and all. And you can also download pre-made designs from the asset library. which is having a collection of 100 million plus designs for canva pro users. The canva docs are going to live very soon so we haven't tried it yet but if you don't wanna miss it then join the Canva docs waitlist to access it first.
2. canva video tools –
video tools are now updated with these new editing features. Now canva offers a one-click video background removal facility. with this feature, you can create more professional videos without having any kind of video-editing knowledge.
3. cinematic presentation tool –
This new presentation tool can now perform like a video editor and make smooth professional presentations without any hassle. they have added stunning new transitions to the presentations, including Match and Move, which identifies images or text across two different slides regardless of size, location, or colour. These elements smoothly transition to give an animated look and feel, making slides even more compelling, with the click of a button.
4. Whiteboards –
whiteboards for exploring new ideas, creating visual examples or brainstorming with your teammates. all this can now be possible with the canva whiteboard which is now available to use. so go on check it out. This new whiteboard will help you in creating flowcharts, graphs and easy diagrams with your teammates on the go. you can also check the current user working on the project too.
5. Websites –
This time canva came up with a new idea canva websites. where you can create fast and beautiful websites without any problems. you can now just click and use any design from the responsive template library and build your website fast and way easy. now create anything from landing page to portfolio everything with just one click and more. The concept of the canva website offers way more than you are expecting. It can make your pdf a website and offers private space with password protection. you can launch the website with a free domain or your personal domain on the go.
6. Printing on demand –
Canva now offers a printing service, where you can print anything. You can now design and create over 35 different print products – simply create your design, and canva will deliver it to your door with the click of a button. It doesn't stop with posters and flyers; you can now print hoodies, mugs, photo books, and even baby outfits in minutes. You can now pick up your Canva Print order in-store at approximately 1100 FedEx Office locations in the United States, or Staples for Canadian users.