Introduction- Printer which is cheap to run and inexpensive. Hey there, today in this blog we are going to talk about affordable printers.
You are searching for a new printer and are now very much confused about which one to go for. Or you may have already decided on what you want but still searching for the best option. Then keep on reading I am going to include every aspect that one has at the time of buying a printer for home or office use.
The points you need to consider before buying a printer cheap to run –
color printing or black and white
cost of toner or cartridges
Your daily uses- Before buying any printer out there, please consider your uses. Do you want color printing, photo printing or normal school/office documents printing?
Now that's decided then how regularly do you print and in how much quantity?
Now you may think why would it matter?
Well for daily use, I know it's a bit weird question but considering the number of times you will use it in a day is still a thing.
If you are the person with daily needs with the least requirements and happy with normal black and white printing then you should be going for a laser printer but if you want color printing option then you have to go for color laser printers which are a bit on the expensive side.
Work requirements– As I said before, what are you going to print on regular basis is a question that you may have to keep in mind. If you want to save some money when buying a printer.
As we all know that there are a bunch of options out there, like; all-in-one printers, only printers, scan, copy and whatnot. First, decide on the things that are most required on the daily basis.
Your budget– budget is the essence when buying anything. The budget holds us all in the boundary which we can't cross or it will be going to affect us later on.  Work on your budget with what you desire and your actual uses.
Printing speed– If you are buying it for office use or for personal use doesn't matter. But when it comes to regular printing the speed may have concern for some people. Some may want the best quality printed documents from their printer and some of you there only want to get their documents printed at lightning-fast speed.
In general laser printers are the fastest in printing fine quality documents considering they can only print fast enough in monochrome colours.
Color printing or black and grayscale– well that's a personal choice and depends on the working. In offices, there are documents mainly in a single color. For saving time on printing and budget on cartridges. Color printing is also a great option but consumes lots of ink and can be on the expensive side of the budget but we all have different requirements. This one is on you to figure out which one you want the most in regular uses.
Cost of toner or cartridges– the cost of the cartridges or the toner cannot be determined. But if I have to explain in simple words then the toner would be the least expensive. On the other hand, the ink cartridges will cost you and eventually you will learn that the cost of cartridges for the entire year is equal to the cost of your inkjet printer.
The following document will involve basic meaning and difference b/w laser printer vs inkjet printers.
Some recommended cheap printers to run,
Conclusion and then FAQ's.
Printers are used for printing any document or file on hard paper or we can say that it converts soft copy into hard copy. Printer generally used in home and offices are of two types
Inkjet printers are reliable and easy to use but their life is short spain and demands more caring and maintenance.  Inkjet printers are affordable and less expensive.

Advantages of an inkjet printer-
Inkjet printer is an excellent choice for printing artwork, photographs, or canvas printing.
These kinds of printers use liquid ink which produces the best results.
If you have oversize documents or images to print then inkjets can do it better than any other printer in the market.
The disadvantages of an inkjet printer-
The cost of ink cartridges is too high.
Ink cartridges tend to dry up if you are not using them frequently.
Much slower than a laser printer.
Cartridges can clog up the printer.
High maintenance is required.
Whereas, in Laser printers, life is really long but they are not optimal choices when it comes to color printing or photo printing. Laser printers provide crisp and clear text in document printing. So if you're into documents printing or have to do lots of billing and such office stuff then obviously go for laser printers.

Advantages of a laser printer-
Reasonable cost of cartridges.
cartridges will last longer
Prints faster than inkjet printers.
low maintenance
no regular printing required
produces fine-textured documents
Disadvantages of a laser printer-
The quality of printing is lower in comparison to inkjet.
Lower quality color prints.
Laser printers are expensive.
Only prints on paper.
Printers on our list-
Epson expression home XP-5100 is an excellent choice in inkjet printers. The price of this inkjet printer is around 99.99 USD. The Epson printer here is ideal for home and office use. The quality of print for photos and documents it produces is quite good.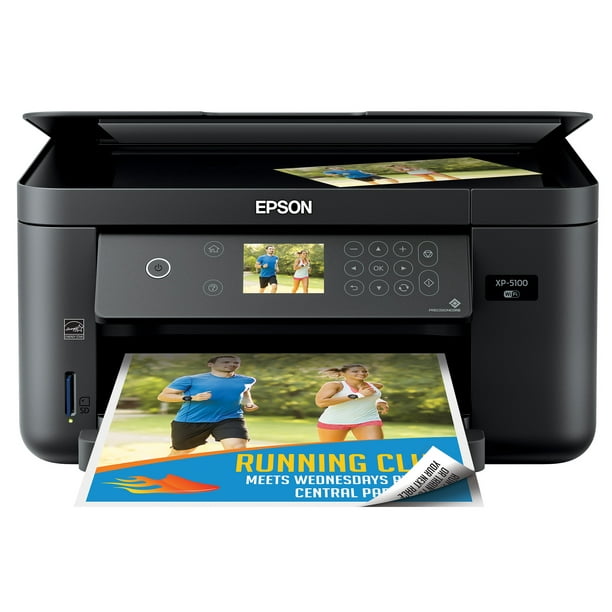 It can print 10 pages per minute in black and for colour pages, it takes 1 minute for 5 pages.
XP-5100 comes with a display screen of 2.4 inches. Publish, overlook and copy wirelessly from your device with this Epson Expressions Home all-in-one inkjet printer. The 100- distance paper charger minimizes time-out to ameliorate productivity, while the2.4- inch TV screen ensures simple setup and use.
This Epson Expressions Home each-by-one inkjet printer features automatic duplex printing to save on paper.
 Prints up to 10 ISO ppm * in black and over to 5 ISO ppm * in color
 Produces documents snappily. Be sure you have the right cartridge
 Enter your printer's model number into Essay and Toner Finder to find compatible charges.
 Hands-free, voice-actuated printing.
Let's you publish a variety of systems and documents, including your to-do and shopping lists. ***
 Ideal for home or small business use
 This inkjet printer offers excellent print quality for prints and documents and accepts a variety of paper types and sizes.
 Wireless and mobile printing capability
Connect this printer to your home or office network with erected-in Ethernet or wireless LAN. You can also publish from your mobile device with the free Epson iPrint app or Apple ® Air Print. **
 Tablet and smartphone printing
 Epson Connect enables simple wireless printing from utmost smartphones, tablets and further.
 Apple ® AirPrint enabled
Four Epson 212 Claria essay charges included
 Give up to 150- runner yield in black and over to 130- runner yield in color. Voluntary 212XL Claria charges offer up to 500- runner yield in black and over to 350- runner yield in color.
 Up to 5760 x 1440 dpi ( blotches per inch) print resolution
High resolution allows producing inconceivable quality and detail in documents and prints.
Four provident individual print charges
 Only replace essay charges ( black, cyan, magenta and unheroic) when a color runs out.
 Standard paper handling
100- distance input charger capacity.

2.4″ TV screen Fluently input commands for printing, copying, and surveying directly from the printer. The high-speed USB harborage offers a standard connection to your PC.
 
MacBook accessories you may require

Publish on both sides of the runner without turning it over manually to minimize your printing costs and help the terrain. Automatically publish two-sided documents, checkup documents to your computer or directly to e-mail, shoot quick faxes and further.
This hp never stop mfp 1202w wireless is an all in one laser printer which prints, copy and scans.  This printer supports reloadable toner (sold separately).
The printer offers printing speeds of 21 pages per minute. The Paper tray supports a paper sheet of 150 pages.

At the time of purchase, this new Hp 1202w printer inside the box contains up to 5000 pages of tonner. The reload toner kit gets you up to 2500 pages. it means just double is offered inside the box. Neverstop laser printer is energy star 3 certified. This printer does not support color page printing as it's a monochromatic machine.
The maximum document length supported is 14 inches X 8.5 inches
The never stop reload toner kit is available for around 15.99 USD at the time of writing this post.
Specifications as printed on the official website
Mobile Device Printing -Yes
 Networking Wired, Wireless
ENERGY STAR Certified -Yes
Printer Type -All In One
Duty Cycle Up to 20,000.
ISO Mono Publish Speed -21 runners per nanosecond
Monochromic/ Color -Monochromic
Display Screen -Yes
Display Screen Size -1.8 elevation
Model Number -5HG92A#BGJ
Color -White 
 Printer Connectivity -Apple AirPrint, Google Cloud Publish, HP Smart, HP ePrint, Mopria Publish Service, Wi-Fi, Wi-Fi Direct
Least System Conditions -Windows 10,8.1, 8, 7 (32- bit/ 64- bit), 2 GB HDD, Internet connection, USB; macOS EI Capitan (v10.11) macOS Sierra (v10.12), macOS High Sierra, (v10.13);1.5 GB HD; Internet needed; USB Linux
 Product Height -11.3 elevation
 Device Range -15 elevation
 Product Weight -19.3 pounds
 Automatic Document Feeder -No
 Photo Printing -No
 Touch Screen -No
 Automatic two-sided Printing -No
 Compatible Charges -HP Black Original Imaging Drum, HP 143A Black Original Neverstop Laser Toner Reload Kit, HP 143AD Dual pack Black Original Neverstop Laser Toner Reload Kit
Number of Black Charges Included -1
Color Charges Included -0
 Number Of Charges Needed -1
 Copier Info
 Copier Resolution (Black)
 Up to 600 x 600
Next on our list is from brother brand model no. MFC-j4335dw
The ink used by this printer is Brother LC3217BK ink cartridges which can print up to 550 pages. Brother brand is a very well known and reliable brand in the printer line.

This brother Intelligence page gauge helps in determining the remaining ink. it actually displays the amount of ink you've used and how much ink is remaining. All this is done with a built-in 1.8-inch touchscreen display including setting up your connectivity with both Wi-Fi and Ethernet.

The printer also supports all the cloud storage services to scan and print wirelessly on the go.  Through wireless setup using your android or ios device, you can easily print, scan or fax your documents easily and hassle-free. This all-in-one printer is a great choice for students, office workers or for your home. It's easy to use and supports a high print resolution of up to 4800×1200 dpi for superb printing quality.
Supports wireless printing –Yes
For colour printing, it can print 19 pages per minute and 20 ppm in black ink.
Product weight is 17.6 pounds
Compatible cartridges as mentioned on the brother official website "LC406BK, LC406C, LC406M, LC406Y, LC406 3PK, LC406 4PK, LC406XLBK, LC406XLC, LC406XLM, LC406XLY".
The touch screen of 1.8 inches is in-built for settings and access to cloud services.
Detail specifications here-
This one here is color laser printer from the well-renowned brand canon
For high-speed printing, the canon imageclass mf642Cdw is the best choice in the market right now.  You need fast processing for that purpose it can produce documents up to 22 pages per minute in both color and black & white.

It supports 600 dpi for outstanding document quality. In-built 5inch color touch display helps in copying, scanning documents easily with just one touch. Duplex printing is supported which helps in lowering the printing cost.

The canon imageCLASS supports all the necessary wireless connectivity options.
Supports of USB 2.0 is here and apple air print and all the cloud-based services for printing are present.

Refill cartridges "Canon Cartridge 054 Black, Standard, Canon Cartridge 054 Cyan, Standard, Canon Cartridge 054 Magenta, Standard, Canon Cartridge 054 Yellow, Standard, Canon Cartridge 054 Black High Capacity, Canon Cartridge 054 Cyan High Capacity, Canon Cartridge 054 Magenta High Capacity, Canon Cartridge 054 Yellow High Capacity"
For more detailed specifications check here- Canon – imageCLASS MF642Cdw
This printer can be found at around 299$ USD. Now presenting Lexmark B3340dw Monochrome Laser Printer. So as the name suggests monochrome means only single colour printing that is black and grayscale.
Lexmark b3340dw is a small and fast printer, which can print up to 40 pages per minute. Comes with the integrated duplex printing option, for hassle-free dual side printing. For the budget segment lovers, this one here is the best choice if you are looking for a fast printer.
Lexmark laser printer does only one thing, that is printing but what it does is fast. If you're here in the market searching for a fast printer that can print fast and provide bang for your buck this one here is the best choice so far.

The only drawback of having this printer is that it can't scan and in comparison to all in one printers its kinds of on the expensive side. Wireless and Ethernet connectivity is present but no touch screen display.
This Hp Laserjet Pro M15w is an ideal printer for daily uses. If your uses are low and pretty much minimum then buying this would be the best choice. The printer supports monochromatic printing it means no colour printing option in this one.

M15w is small and fits at your workplace without taking much space. The print speed of this laser printer is around 18 to 19 pages per minute. Option of Wi-Fi and Wi-Fi direct is there and all the regular wireless apps are supported. It lacks a dual side printing feature. There is no color display on this device. The output tray supports up to 100 pages with a print resolution of 600×600 pixels. Auto switches off technology for energy efficiency. As per my view, this is going to be a good fit for work from home persons, students, professionals who are looking for a cheap printer to run that meets their budget.
Conclusion –
coming to the conclusion it's pretty much clear that when it comes to running a cheap printer. the printer is not the main agenda but the use is. when you properly go through this article I have already concluded that the uses, the budget and the regular consumption of the product are the key.
Frequently Asked Questions –
can printer cartridges dry out?
The direct answer is YES. why though you may think because when ink cartridges are exposed to extremes of heat or cold, they dry out more quickly. To extend the life of your ink, keep the temperature about 68 degrees.
can printer ink cartridges be recycled?
Yes, you can recycle it. Search for the nearest recycling office for ink cartridges and you are good to go. read more here link
which printer to buy for home use
Any printer that meets your budget and needs can be purchased. If you ask me I will choose HP – LaserJet Pro M15w for basic use.
can laser printers print colour?
Certainly. Laserjet printer printers have been around for a long time and are ideal for use in office environments. Because laser printers were originally designed to print only in grayscale, and it was not until recently that variants were developed to print in colour as well.