Unleash Mayhem and Shine Bright!
The Biggest Apex Legends Partnership Is Here, Event begins on Nov. 7
Hey there, fellow Legends! Brace yourselves for an extraordinary gaming experience as Apex Legends joins forces with the one and only Post Malone. This monumental collaboration promises two weeks of sheer mayhem, introducing a brand new Limited Time Mode, mind-blowing cosmetics inspired by the music sensation, and a whole lot more. Get ready to shine in the midst of this gaming extravaganza.
TL;DR
Apex Legends partners with Post Malone for an exciting event.
New Limited Time Mode, "Three Strikes," offers unique gameplay.
Exclusive cosmetics inspired by Post Malone for various Legends.
Earn Camo Credits and unlock event-exclusive cosmetics.
Watch Twitch streams to unlock exclusive in-game items.
Table of Contents
NEW LIMITED-TIME MODE: THREE STRIKES
Revenant's Heirloom at the Ready!
Prepare to plunge into the chaos of the all-new Limited Time Mode, "Three Strikes." This thrilling mode introduces faster revives and temporary invincibility when downed. In "Three Strikes," you and your squad are granted three chances to emerge as the last survivors. Players can be knocked, but they won't meet their end unless the entire squad is wiped out. Should that unfortunate event occur, you lose a strike and rejoin the battle, fully equipped. Lose all three strikes, and it's game over.
Upon respawn, you receive:
Armor and EVO progression.
Weapons and attachments (excluding mythic weapons).
Ammo, ordinance, and consumables.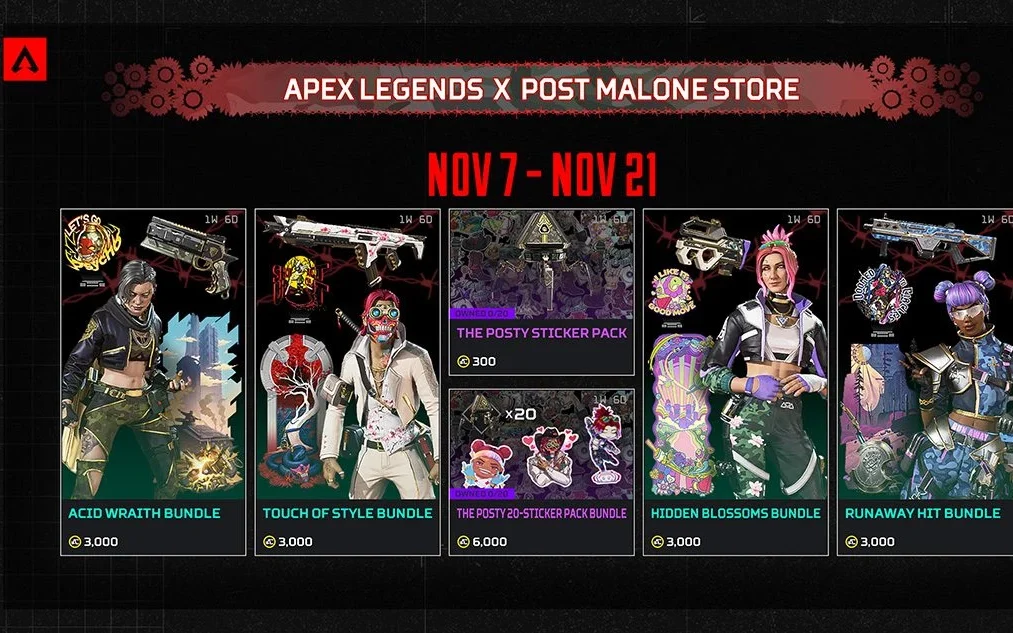 Join the action from Fridays through Sundays and enjoy 1.5 times the fun with:
1.5x XP boost from November 10 to November 12, 2023.
1.5x XP boost when playing Three Strikes from November 17 to November 19, 2023.
COSMETICS DESIGNED WITH POST MALONE
Get Ready for Iconic Cosmetic Awesomeness!
Embrace the "Iconic" tier cosmetics that take center stage in this event. These include skins, stickers, and bundles crafted in collaboration with Post Malone for some of your beloved Legends like Octane, Wraith, Horizon, and Lifeline.
Unlock all 20 stickers from the Posty Sticker Packs† to receive three Legendary stickers to adorn your heals and shields.
CAMO CREDITS & REWARD SHOP
Choose Your Rewards with Camo Credits
Customize your rewards with Camo Credits, the event's currency. You can earn up to 285 Camo Credits per day by completing Daily Challenges and spend them on unlocking event-exclusive cosmetics.
But wait, there's more! Camo Credits are versatile and can also be exchanged for a limited number of Battlepass Stars and Sweepstakes Tokens**. Act quickly because you've only got 14 days to accumulate Camo Credits, and they expire at the event's conclusion.
Unlock four unique variants of the Apex Legends X Post Malone Event badge by completing challenges and earning currency throughout the event.
Unlock Twitch DROPS
Watch, Unlock, and Dominate
For all you avid Twitch viewers, here's a treat. Tune in to select Twitch streams between November 7-19 to earn exclusive cosmetics while watching your favorite streamers dominate in Apex Legends.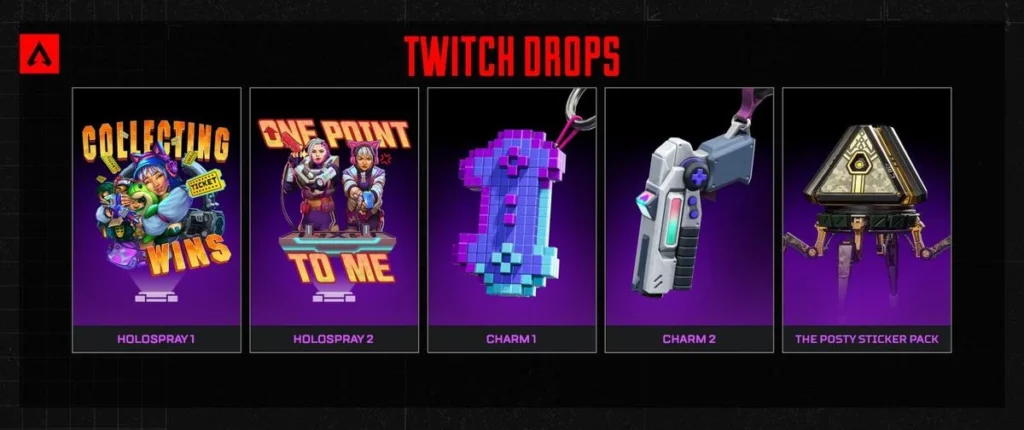 Don't forget to link your EA account with your Twitch account and watch during the specified dates to unlock the corresponding items. You can find instructions on linking your EA account [here](link to EA account linking guide).
Available: November 7-14, 2023
Drops: Weapon Charm 1, Holospray 1
Hours Watched: 1 hour (1 hour total)
Available: November 14-21, 2023
Drops: Weapon Charm 2, Holospray 2, Posty Sticker Pack†
Hours Watched: 1 hour (1 hour total) + 3 hours total
Stay tuned for this incredible Apex Legends event and join the mayhem alongside Post Malone! It's going to be a gaming extravaganza like no other. Don't miss out on the action.