Why is my gaming PC blue screening during games?
A gaming PC may get BSOD due to a variety of reasons, including:
Overheating components, such as the CPU or GPU
Driver issues, such as outdated or incompatible drivers
Hardware issues, such as faulty RAM or a failing hard drive
Overclocking settings that are too aggressive
Malware or other software issues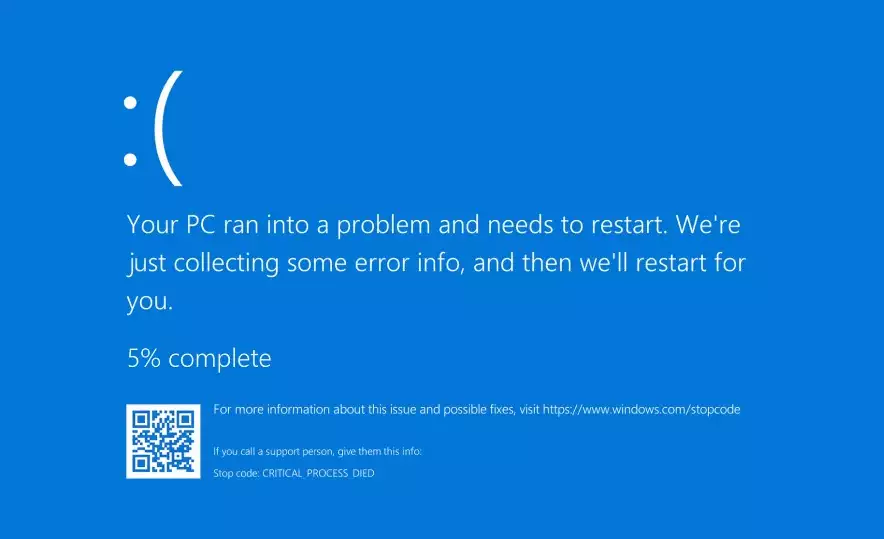 How do I stop my PC from blue screening error?
To stop a PC from blue screening error, you can try the following steps:
Check for overheating components and ensure proper cooling
Update drivers to the latest version or roll back to a previous version if the latest one is causing issues
Test your hardware components for issues using diagnostic tools
Adjust your overclocking settings or return them to default
Scan your system for malware or other software issues
Consider a clean installation of your operating system
Can RAM cause blue screen?
Yes, faulty or incompatible RAM can cause a blue screen error. RAM-related blue screens can be caused by issues such as incorrect installation, mismatched memory modules, overheating, or a defect in the RAM module itself. RAM is an important component that can cause system instability when it is not functioning properly.
Can overheating CPU cause blue screen?
Yes, an overheating CPU can cause a blue screen error. If you suspect that overheating is causing the problem, check your CPU temperature and take appropriate measures, such as ensuring proper ventilation, cleaning dust, and replacing the thermal paste. Or you can also go with a water-cooling AIO for you processor for better cooling.
Can blue screen damage your PC?
A blue screen error itself typically will not cause physical damage to your PC. However, if the issue causing the blue screen error is left unresolved, it can potentially cause damage to your hardware components.
Is it normal for my PC to blue screen?
While a blue screen error can occur occasionally, it is not normal for a PC to blue screen frequently. Frequent blue screens can indicate a more serious issue with your system. Frequent blue screen errors indicate a serious problem with your hardware or software. It's essential to identify and resolve the root cause to prevent data loss and damage to your PC.
How do I know if my RAM is corrupted?
To determine if your RAM is corrupted, you can run a memory diagnostic test. This can be done using built-in tools on your PC, such as the Windows Memory Diagnostic tool.
Is blue screen of death normal?
A blue screen of death is not normal, and it typically indicates a problem with your system that needs to be addressed.
What causes bluescreen?
A blue screen is an error message that shows up on a computer running Windows when there is a critical error that it cannot recover from. It's also called the "blue screen of death" or BSOD. The blue screen gives information about the error, like a code and a brief description of the problem.
There can be many reasons for blue screens. One common cause is outdated or broken drivers. Drivers are what allow hardware to talk to the computer, and if they don't work right, the computer can crash. Keeping drivers up to date can help avoid these issues.
Additionally, A blue screen error can be caused by a variety of issues, including overheating components, driver issues, hardware issues, overclocking settings, and software issues.
Why is my PC freezing and blue screen?
Hardware failures are a common cause of PC freezing and blue screen errors. Issues with the RAM, hard drive, CPU, or graphics card can cause these problems. If any of these components are malfunctioning, they may cause your PC to freeze or crash, resulting in a blue screen error.
Software errors, such as corrupt system files or incorrect system configurations, can also cause PC freezing and blue screen errors. In addition, driver conflicts, especially when using outdated or incompatible drivers, can cause these problems. Malware infections, such as viruses or trojans, can also cause PC freezing and blue screen errors.
Can a fan cause blue screen?
While a fan itself cannot cause a blue screen error, a malfunctioning or improperly installed fan can contribute to system overheating, which can cause a blue screen error.
What are signs of CPU overheating?
Some signs that your CPU might be overheating include your computer running slowly, sudden crashes, or the fan in your computer running louder than usual.
To fix an overheating CPU-
you can try cleaning out the dust from your computer's fans and vents, or
Adding more fans to improve airflow.
You can also try using a thermal paste to help dissipate heat from the CPU.
If these methods don't work, it might be necessary to replace the CPU cooling system.
It's important to keep your computer cool to avoid damage to your hardware and ensure smooth operation.
The most common BSOD error messages and possible solutions: