Buckle up for an uproarious journey through the quirky town of Barnsworth, where odd jobs, laughter, and hilarity abound! Get ready to immerse yourself in a comedic slapformer experience that promises to tickle your funny bone and take you on an unforgettable adventure.
Planned Release Date: 2024
The countdown to hilarity begins! In 2024, prepare to embark on a side-splitting escapade as you explore the bizarre Northern English town of Barnsworth in "Thank Goodness You're Here!" Get ready to dive headfirst into a world of oddball characters, zany tasks, and endless laughs.
A Hilarious Prelude
The stage is set as a traveling salesman arrives in Barnsworth early for a crucial meeting with the town's enigmatic mayor. Little does he know, his journey is about to take a hilariously unexpected turn. As he sets out to explore the eccentric town and its colorful denizens, he finds himself drawn into a whirlwind of increasingly peculiar jobs.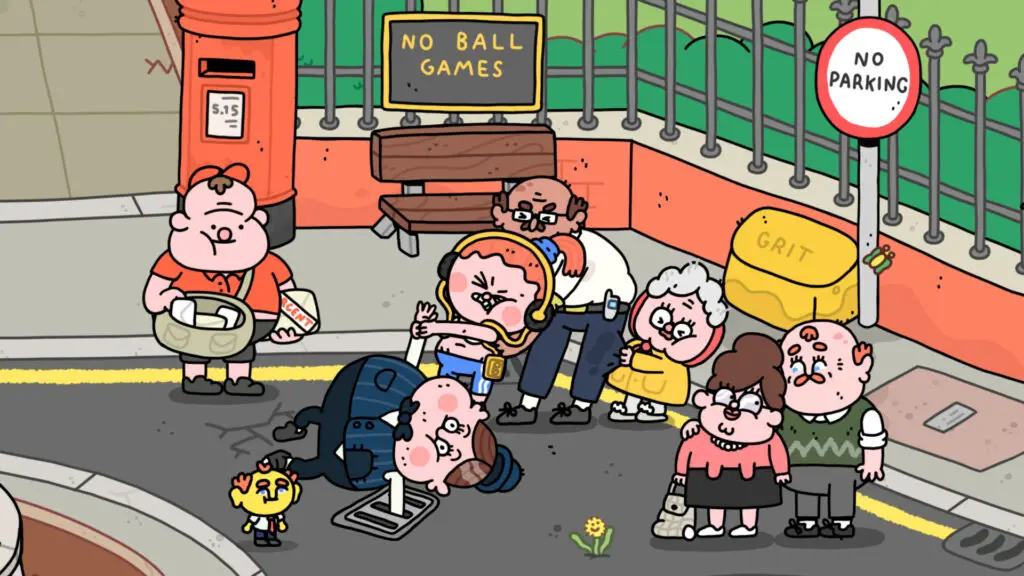 A Comedy Slapformer Delight
"Thank Goodness You're Here!" is not your typical adventure – it's a comedy slapformer that unfolds over time. The player's exploration and mischievous antics have a ripple effect on Barnsworth, leaving an indelible mark on the town. Each odd job completed paves the way for new areas to be discovered, along with even stranger tasks that promise uproarious results.
Tick-Tock Towards Hilarity
As the clock ticks towards the salesman's big meeting, the laughter and chaos only escalate. You'll be tasked with odd jobs that range from the hilarious to the downright absurd, painting the town with your antics and leaving a trail of laughter in your wake.
Vibrant Animation and Whimsical Characters
Prepare to be dazzled by the town's vibrant hand-drawn animation that brings every corner of Barnsworth to life. Engage with a cast of characters who are as eccentric as they are unforgettable. Fully voiced dialogue and clever double entendres add an extra layer of charm to the whimsical world.
Get Ready to Laugh, Explore, and Unwind
In 2024, "Thank Goodness You're Here!" promises to be the game that leaves you in stitches. Dive into a world where odd jobs lead to even odder situations, and every corner of Barnsworth holds a surprise. 
Whether you're a seasoned gamer or a comedy enthusiast, this slapformer adventure is primed to deliver an experience that's as sidesplitting as it is heartwarming. So mark your calendars and gear up for a journey that promises laughter, exploration, and a heaping dose of eccentricity.