Talk about free yet safe for your browsing sessions, Brave Browser comes to mind.Use Brave Browser For a safe, secure, and ad-free browsing, Brave is a free, open-source browser supporting all Operating Systems from Windows to iOS. Brave was found in the year 2015 headquartered in California.

The test versions of the browsers generated revenue through web ads that were based on the users' anonymous browsing history.
This test version's intention was to bring the future of browsing into motion through the Pay-to-surf Business Model of the browsers.
The ad-exchange feature proposed through Brave's initial 2018 model led to investments by some major corporate companies like Danhua Capital, Digital Currency Group, Huiyin Blockchain Venture, Pantera Capital, Propel Venture Partners, etc.
Brave uses BAT (Basic Attention Token) to support the sites their users use. Brave users can earn BAT by watching advertisements or by funding their BAT wallets. The revenue generated through BAT is distributed in a 70-30 ratio where 70% revenue goes to the users and the rest 30% is split evenly between BAT and advertisement Publisher. Yes, it's true that the Brave browser pays you 70% of the revenue. Earning while browsing? Who thought that would be possible.
History of Brave Browser
CEO Brandon Eich and CTO Brian Bondy founded Brave Softwares in 2015 originally named Hyperware Labs. The first launch of the Brave Browser featured ad-blocking and plans for revenue sharing features. The initial 2018 version of the Brave browser had 250 preloaded ads
As a pay-to-surf test version that sent a detailed log of the user's browsing experience and history for the purpose of testing, the functionality of this test-version.
In 2019, Brave engineers released Brave Ads on their web browser and started opting crypto currency to pay users. They are working with companies like Vice, Home Chef, Ternio BlockCard, MyCrypto, AirSwap, TAP Network, eToro, Fluidity, Uphold, etc.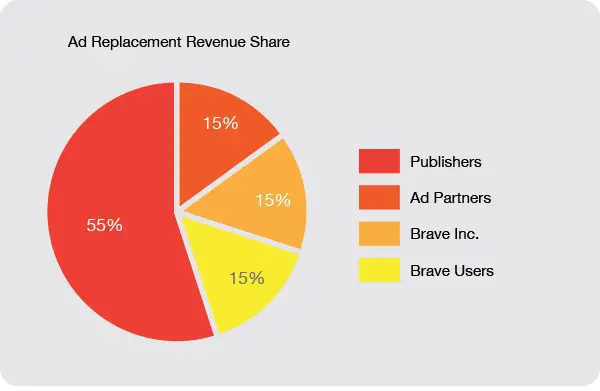 Brave Payments
The Basic Attention Token (BAT) is an open-source ad-exchange platform which is exclusively used with Brave Browser only. BAT is based on Ethereum.
It was initially using Bitcoins to tip website and content creators. BAT decentralized the payment methods and made it easier through their locally stored data that display ads to users based on local data.
The revenue generated this way is given 70 percent to its users. while the rest 30 is split between Brave and advertisement publisher.
Brave Browser Features
Brave loads major websites 2-8x times faster than any of the other commonly used Web Browser like Firefox.
Saves money by not charging extra to download unwanted content.
Focused on user privacy. Brave stops trackers and gives its users a deep level of protection and privacy.
the browser that is performance-oriented.
The revenue system of Brave utilizing BAT has revolutions the advertisement system as well as the payment method and business models of web browsers.
Brave gives its users a portal for micropayments to support their favorite content creators even if you block advertisements. You can do this by utilizing your Brave rewards.
This gives its users free ad-blocking.
It provides an option to use DuckDuckGo for private window searching.
It gives its users cookie control as well.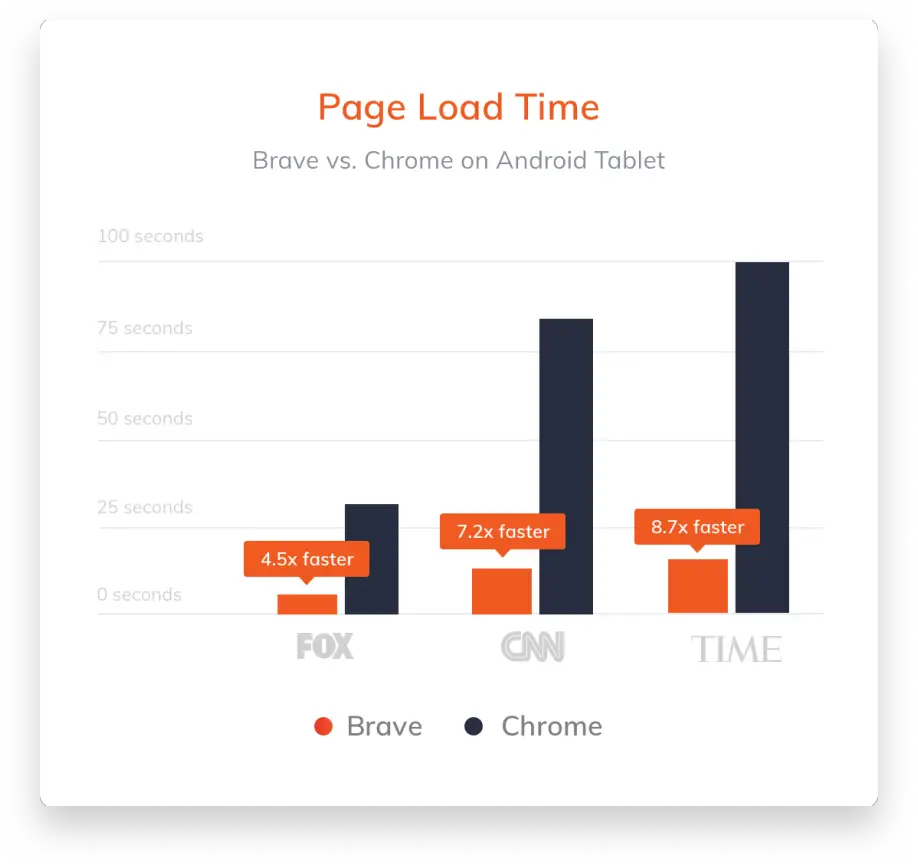 Brave Browser vs Firefox
Brave Browser– blocks ads and website trackers thus providing more security as compared to browsers like Firefox.
The Pay-to-surf business model of Brave is better than the business models utilized for browsing in Firefox.
Users get compensated for watching advertisements through BAT, In the brave wallet.
Getting paid to watch ads? SIGN ME UP!
Increased security and privacy features which are not provided by other open-source browsers.
Automatic upgrade to HTTPS for secure and encrypted communications and browsing sessions.
The performance is 2 times better on desktop and 8 times better on mobile as compared to any other web browser while loading major websites.
Brave Browser Security
Looking for secure networks while researching, downloading and installing? Fret not because Brave Browser does all that work for you by automatically upgrading to HTTPS for secure and encrypted communications and browsing sessions. The browser's default setting blocks phishing, malware, and malvertising to give a secure network to its users.